Kondakadalai kurma is made with chana, coconut and other masalas as main ingredients. I wanted to try something with black chana for long time, thought will try kurma with it, as I have not tried kondaadalai kurma for chapati. Always love the cute tiny kala chana over the white chickpeas. I love it's texture too better. Very simple and straight forward recipe that you can include in your routine menu. I wanted to post this last week itself, but could not spare time sitting and posting😯. Man, what a hectic trip it was. Too much of travel and time flew just like that! It was an expected one, so it was my mistake on not to scheduling last two week's post. I thought later part of the trip could be relaxing, but I had no heart to spend time on blogging than spending time over blogging. As always had many plans, some got executed some not, but I have no repents. It was an awesome trip and had a great time. Did a lot of shopping, got puttu maker and cast iron kadai which I wanted to buy mainly. Can't wait to use both soon. Especially the puttu maker😛.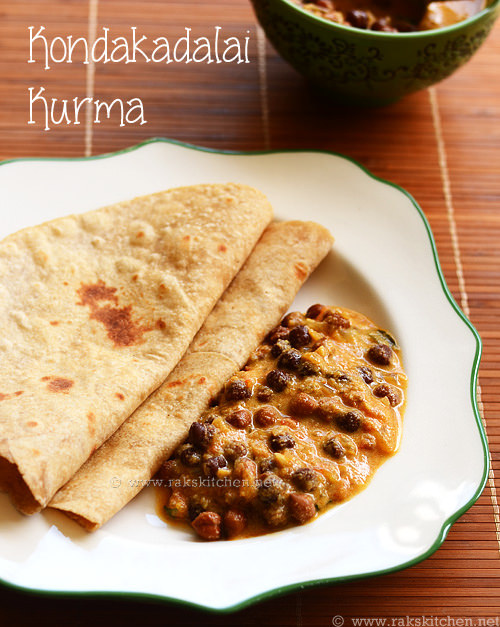 Kondakadalai kurma recipe
Recipe Cuisine:
Indian
|
Recipe Category:
Breakfast
Prep Time
:
12 Hrs soaking time
|
Cook time: 25 mins
|
Serves
:
4
Ingredients
Black chana – ¾ cup
---
Onion – 2
---
Tomato – 3
---
Garlic, finely chopped – 1 tablespoon
---
Red chilli powder – 1 teaspoon
---
Coriander seeds powder – ½ teaspoon
---
Garam masala powder – ½ teaspoon
---
Lemon – ½
---
Coriander leaves, finely chopped – 1 tablespoon
---
Salt – as needed
---
To grind to a paste
Coconut, grated – ½ cup
---
Cashew nuts – 8
---
Fennel seeds / Soambu – ¾ teaspoon
---
Ginger – ½ inch piece
---
Green chilli – 3
---
To temper
Oil – 1 tablespoon
---
Bay leaf – 1
---
Clove – 1
---
Cardamom – 1
---
Cumin seeds – 1 teaspoon
---
Curry leaves – 1 sprig
---
Method
Soak chana overnight with enough water. Wash and change the water morning, enough to immerse the chana and pressure cook for 4-5 whistles with little salt.

Grind the ingredients under 'To grind' table to a smooth paste with little water.

Heat a pan and temper with the items under 'To temper' table in order.

Add very finely chopped garlic and mix well until fragrant.

Add finely chopped onion, fry for a minute, followed by finely chopped tomato. Add little salt, red chilli powder, coriander seeds powder and turmeric. Fry in medium flame until tomatoes are mushy.

Add cooked chana with the water and let it boil for 2 mins. Add ground paste and mix well. Adjust water consistency.

Boil for 5-6 mins in medium flame and once thick, switch off the flame, add lemon juice, coriander leaves and mix well.
Notes
Fennel and coriander leaves should not be added more as it will over power the smell.
Adjust water consistency as needed. For reference, I used medium sized onion, tomato.
Goes well with chapathi, phulka etc. I had with chapathi.