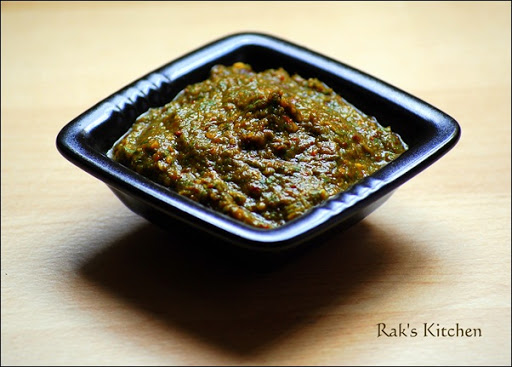 We love this thogaiyal,its a very tangy,flavorful spicy one! I make this now a days frequently and use for 3-4 days. My hubby,my brother and my BIL's too love to eat thogaiyals! So here I am posting for you all and for my future reference too!We enjoy this usually by mixing this with hot rice and sesame oil🤤.
Kothamalli thogayal recipe
Recipe Cuisine:
Indian
|
Recipe Category:
Lunch
Prep Time
:
10 mins
|
Cook time: 5 mins
|
Serves
:
6
Ingredients
Fresh coriander leaves – 1 bunch
---
Urad dal/ulutham paruppu – 2 tablespoon
---
Red chilies(long variety) – 8
---
Tamarind – small lemon sized
---
Jaggery (optional) – 1 peanut sized piece
---
Salt – as needed
---
Oil – ½ teaspoon
---
Method
Remove the root part and the stem part that is close to the root part of the coriander leaves. Wash and keep aside.
Roast the urad dal and red chilies till golden brown.After cooled down, First grind red chilies,tamarind,salt,jaggery.

Then add the coriander leaves(chopped roughly) and the urad dal and add two tblsp of water and grind to a coarse paste.
Keep in refrigerator and use for 3-4 days.
Enjoy with rice or idli, dosas!