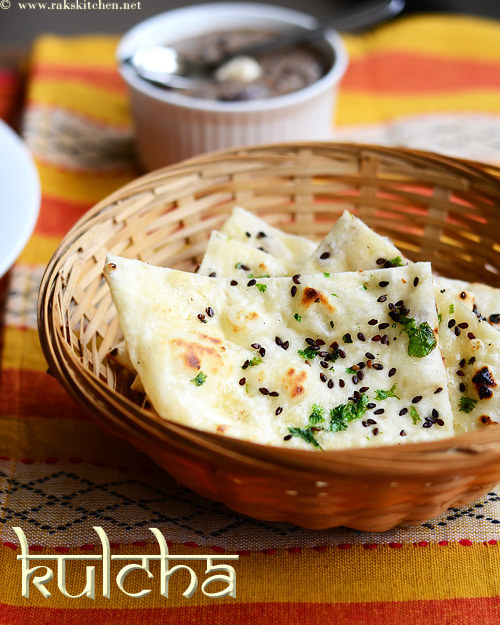 I eat garlic
naan
usually when I order north Indian flat breads at restaurants. Kulcha is Vj's favorite. When we go to Kailash parbhat, Vj orders this every time. I always stick to my favorite chaats there and have any left over that Aj orders. When I was thinking of posting some North Indian
lunch menu
last week, I thought of making dal makhani but was not sure of what to make for bread. I thought for a change, instead of
roti
or naan, I will try this kulcha. Its not complicated as you think. Its very easy. And we are gonna make only one or two for a person, so no worries. I made only 4 and I think its perfect for lunch time along with other dishes. I referred a stuffed kulcha recipe from Khanakazhana, but adapted to make it as plain/ butter kulchas. Make it plain or with sesame seeds sprinkled, brush it with butter to make it more tastier.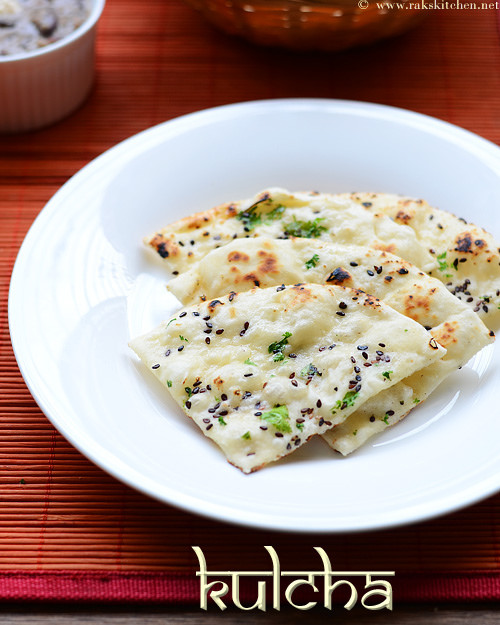 Kulcha recipe
Recipe Cuisine:
Indian
|
Recipe Category:
Lunch/ Dinner
Prep Time
:
1 hr
|
Cook time: 15 mins
|
Makes
:
4
Ingredients
Maida/ all purpose flour/ plain flour – 1 cup
---
Milk – 1/4 cup (plus as needed)
---
Curd – 1 tblsp
---
Baking powder – 1/2 tsp
---
Cooking soda – 1/4 tsp
---
Sugar – 1 tsp
---
Salt – 1/2 tsp (or as needed)
---
Black sesame (optional) – As needed
---
Coriander leaves – As needed
---
Oil – As needed
---
Butter – As needed
---
Method
Mix flour, baking powder, baking soda and sieve it to make sure even mixing. In a mixing bowl, place the flour and make a dent in the middle. Add sugar, salt, curd and milk.

Gather to make a dough and knead for a minute. Rest aside covered properly for an hour. Again knead well to make the dough smooth.

>

Divide into 4 equal balls. Roll with generous dusting over a counter top. When its half rolled, add few drops of oil and spread it. Again roll to a thin kulcha. Adding oil at the bottom makes it easy to spread without shrinking.

Do not worry about the shape. Take the rolled kulcha in ur hand and sprinkle some sesame seeds and chopped coriander leaves.

Again keep the kulcha and roll gently over to make sure the sesame and coriander sticks to it well.

Heat a tawa and now spread little water on the top of rolled kulcha. Take the kulcha carefully and put it over the hot tawa in such a way that the water brushed side is down. Cook covered in medium flame. (water should be applied over the plain side of the kulcha and the water applied side should be put to the tawa first. The sesame side should be on top)

Once you see bubbles on the top, you either flip it in the tawa itself and cook or put it over direct flame with sesame seeds side down. Wait till brown spot appears and brush it with butter.
Notes
Adding oil while rolling ensure easy rolling without shrinking. I found it while I was rolling and found it helpful.
You can use white sesame too.
Roll it thin otherwise, it will be looking like naan.
To avoid watery bottom, always keep kulcha in a bamboo basket or over a clean kitchen cloth or wire rack.
Serve with any rich side dish like paneer based gravies or others like dal makhani as I did.