Indian lunch box ideas for kids, adults. Here are Indian lunch box ideas for school and office. Inspiration for easy, simple and practical lunch boxes.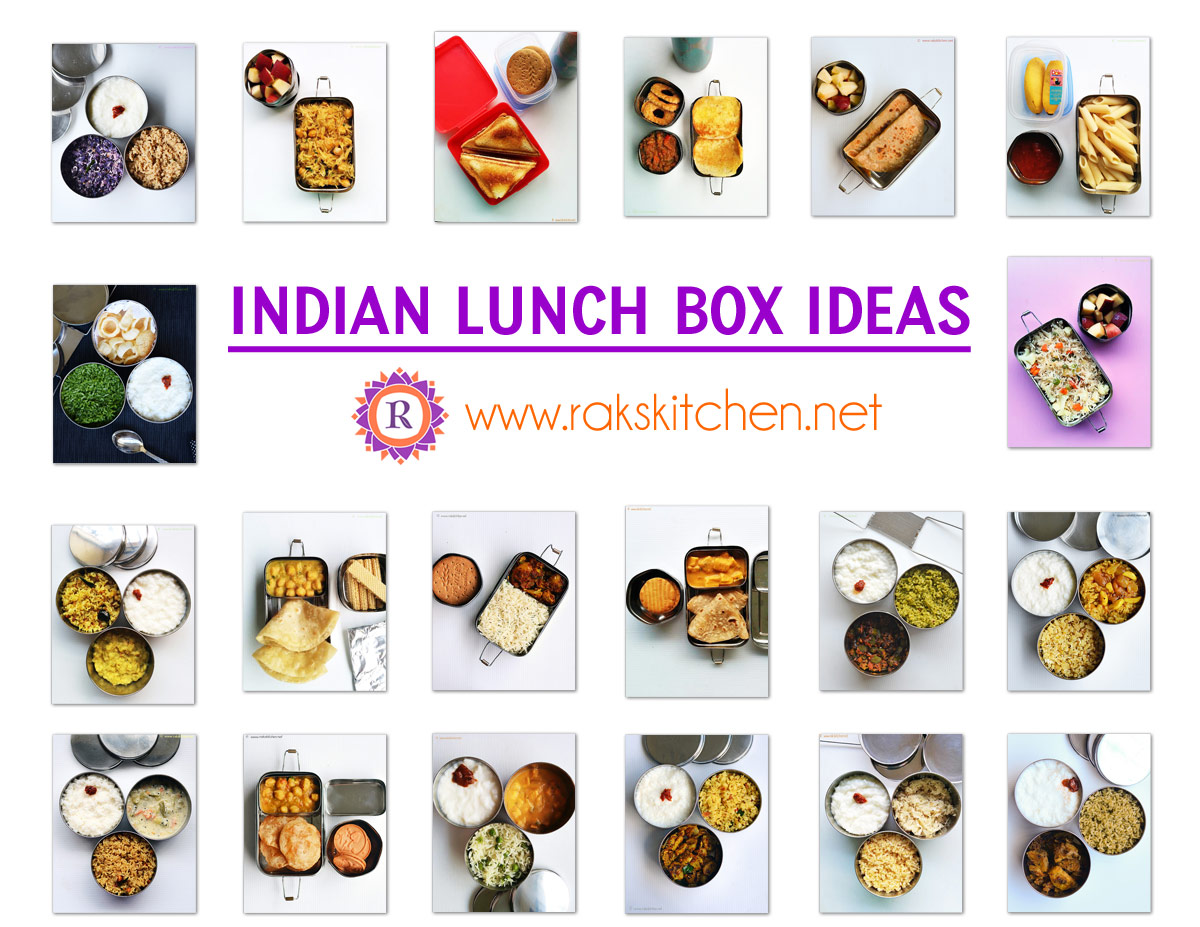 Vegetarian lunch box ideas for kids and adults. These are some of the everyday lunch boxes I packed for my kid and husband.
Hope it will give you some ideas to get inspired. Feel free to change it according to your personal preference.
Disclaimer: These lunch boxes have my kid and husband's favorite food, comfortable for me to prepare in the mornings. Please just keep this as guidance and don't forget to balance the other meals that meets with a day's requirements.
Jump to:
Click here for more lunch box recipes
Kids Lunch box ideas
Week 1
Week 2
Lunch box ideas for adults
Week 1 - Day 1
Gooseberry pachadi, purple cabbage poriyal, curd rice
Tangy gooseberry curd pachadi mixed with ghee and rice, delicious purple cabbage poriyal and creamy curd rice with pickle.
Cut cabbage prior day and refrigerate it to finish work quickly.
Day 2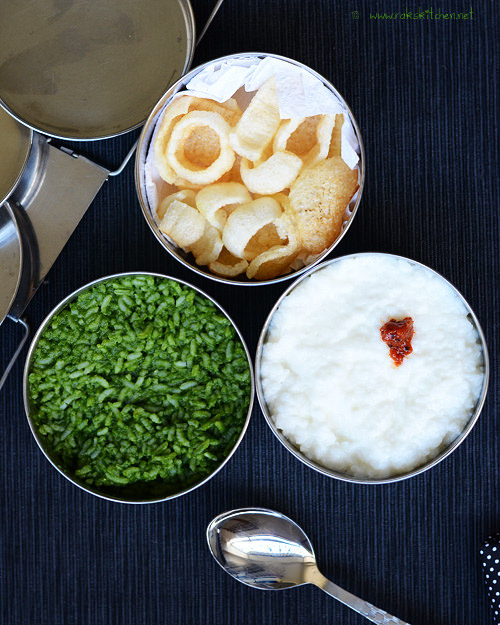 Keerai masiyal, Fryums, curd rice
Flavorful and healthy greens masiyal with curd rice, simple yet healthy. Clean the greens and refrigerate it the before night.
Day 3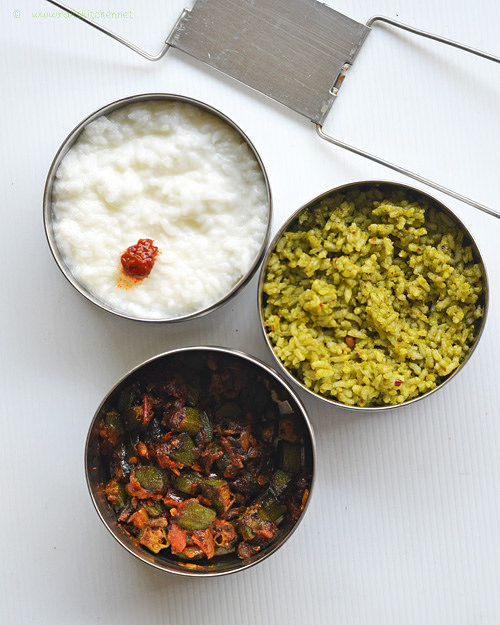 Coriander thogaiyal, ladies finger curry, curd rice Coriander leaves thogayal is very very handy if made prior day itself.
Easily we can pack it by mixing with rice and sesame oil.
Cut ladies finger and refrigerate it before day.
Day 4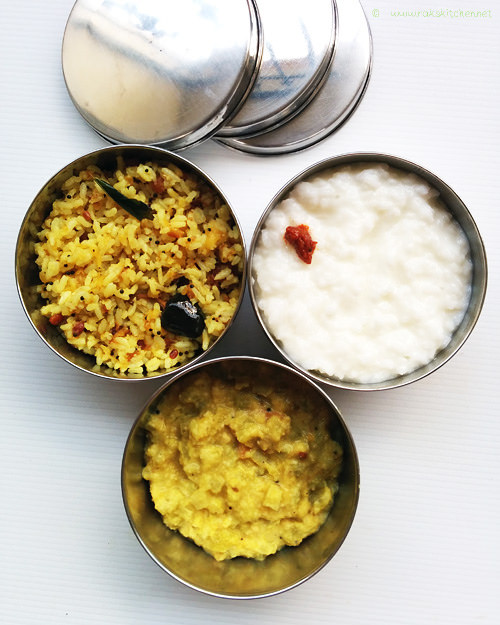 Mango rice, snake gourd kootu, curd rice
Mango rice is great idea when mangoes are in season. I gave snake gourd kootu to make it wholesome meal.
Chop snake gourd and refrigerate the prior day.
Next day pressure cook with dal along with rice in separate containers to make it fast.
Day 5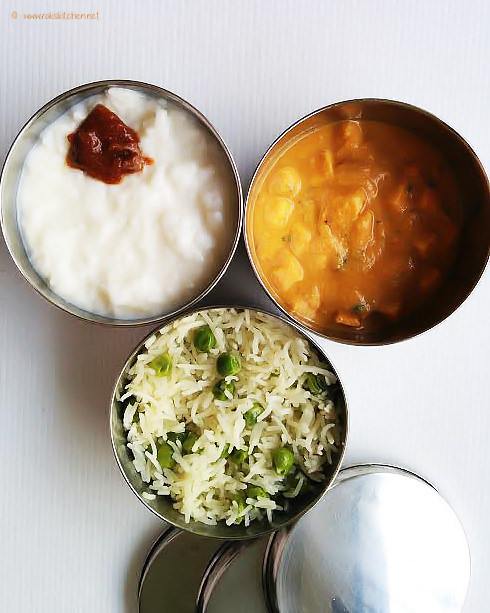 Peas pulao, paneer butter masala, curd rice If you have a big non stick kadai.
Pulao can be made in kadai itself provided rice should be soaked 30 mins in warm water. Goes well with this rich butter paneer masala!
Week 2 - Day 1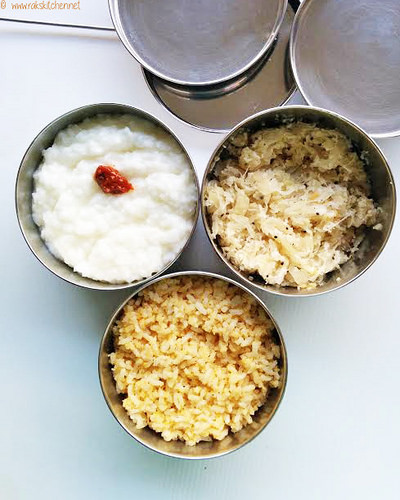 Paruppu podi rice, cabbage poriyal, curd rice
Dal powder mixed with sesame oil and rice, Simple cabbage poriyal and creamy curd rice with pickle.
Cut and store cabbage in refrigerator prior day.
Perfect for a lazy Monday blues.
Day 2
Garlic kuzhambu, Banana stem poriyal, curd rice
Don't think it will be tedious to pack this for lunch. I can suggest you to prepare this poondu kuzhambu prior day evening, cool & refrigerate.
Chop banana stem and soak it in butter milk, keep refrigerated, next day easy for you!
Day 3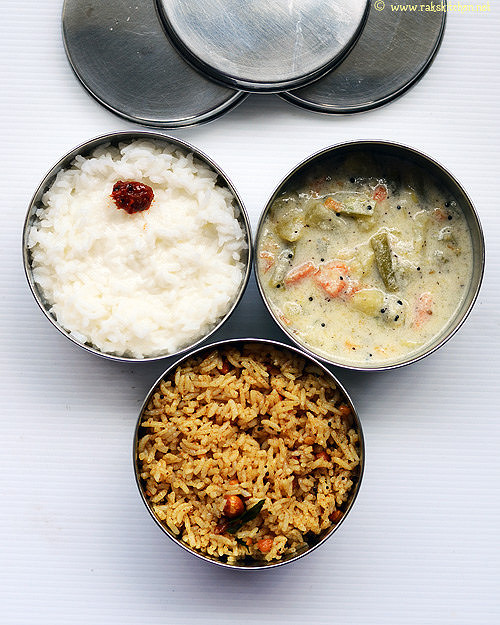 Puliyogare, Aviyal, curd rice
Prepare the puliyogare paste and keep refrigerated. This lends you hand when you are in hurry, you can pack this for lunch monthly once.
Aviyal is a good combo for this with all vegetables, but you can keep it simple with fryums.
Day 4
Peanut rice, Arbi curry, curd rice
Make the powder prior day and refrigerate. Next day prepare in a jiffy.
As arbi can be cooked along rice in same cooker with two different containers.
Day 5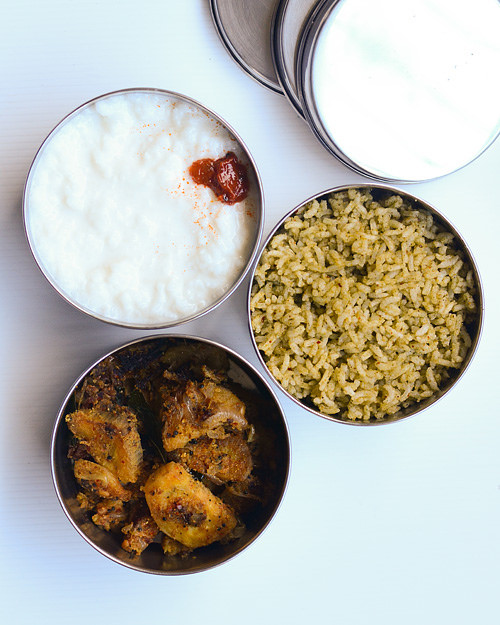 Curry leaves rice, Plantain curry, curd rice
Flavorful and healthy rice along with spicy vazhakkai curry - flavor will linger in your mouth after lunch!
Disclaimer :
These Indian lunch box ideas may not be balanced meals and may not contribute your everyday essential nutrients.
This is just my family's customized Indian lunch box ideas. Mostly south Indian cuisine and personal favorites.
Few tips
Some vegetables can be chopped and kept refrigerated the previous night. Even tomatoes can be chopped and kept. Onions should not be chopped and kept as it can easily pick up the bacteria.
To avoid rice getting lump and hard, make sure to cool the rice prior mixing. Plan ahead, which will make your packing easy and hassle free.
Curd should never be added to hot rice as it may kill the live culture in the curd and all the goodness will be gone.
Use aluminium foil for packing rotis and parathas, which keeps the breads fresh. Most importantly, do not pack hot food in aluminium foil.
Make sure you change your menu every week.
More inspirations
Variety rice are best way to easily pack your day's lunch box. Check out more ideas below:
My top picks:
Sandwiches are my to go as my kid loves it. For that reason, I bought my Bread machine to avoid store bought bread loafs.
Here are some sandwiches form my website.
Snack inspiration
Home baked goodies can be handy. Biscuits, buns make a great snack. Even homemade snacks like murukku and other snacks can be packed along with your healthy snack like fruits/ steam veggies.