Pulao naan lunch combo with paneer butter masala, dahi and pickle. This is part of my lunch menu series where I share menu ideas and just link the respective recipes.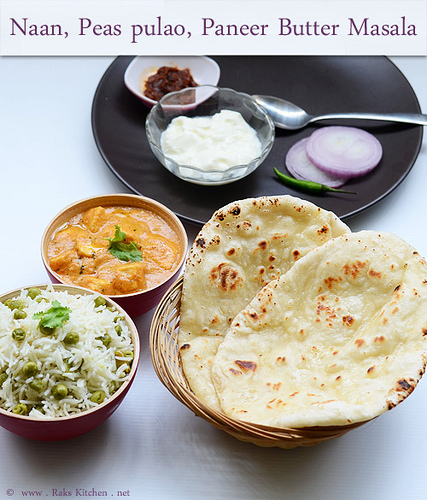 It's a lazy weekend this time, as usual I made this post last minute😐. But I decided to make a meal with Naan this week already.
So made a simple spread as you see. I had some other menu plans, but since I was lazy, I restricted the menu with 3 items.
With the things I had in my pantry, I managed to make this menu. It took 1 hr and some 15 mins for making this menu.
This is just an menu idea, for detailed recipes of individual, please check the links provided below!
Here's how I prepared the menu:
On wake up, when I entered the kitchen, I first soaked rice for peas pulao and prepared dough for Naan with Maida.
Then after finishing breakfast work and when it was time to prepare lunch, I chopped 1 tomato, 1 onion for PBM and one for peas pulav.
Then in one stove, in a small pressure cooker, prepared for peas pulav and let it cook.
Mean while the pulav gets ready, I prepared Paneer butter masala.
When its done and if your family is also ready for lunch, lastly make Naan.
Thats it, serve with dahi and pickle. A simple lunch ready with special items – Naan, PBM and peas pulav.
If you want to make this meal elaborately, (on any special occasion) you can add on some items to this.
Like another subji like aloo gobi or aloo gobi mutter or gobi masala. You can replace paneer butter masala with palak paneer or aloo palak or baby corn masala as well.
My kid will like peas masala too for naan. You can replace peas polav with vegetable biryani as well. And make a raita to go with it.
Complete the menu with sliced onion, cucumber, tomato and chilli and with a papad, pickle and dahi.
Wholesome and special!🙂
Have a great weekend with home food 😍!