This week's lunch is a healthy one with my favorite Karuveppilai kuzhambu. I have been craving for some tangy kuzhambu, so thought of trying this.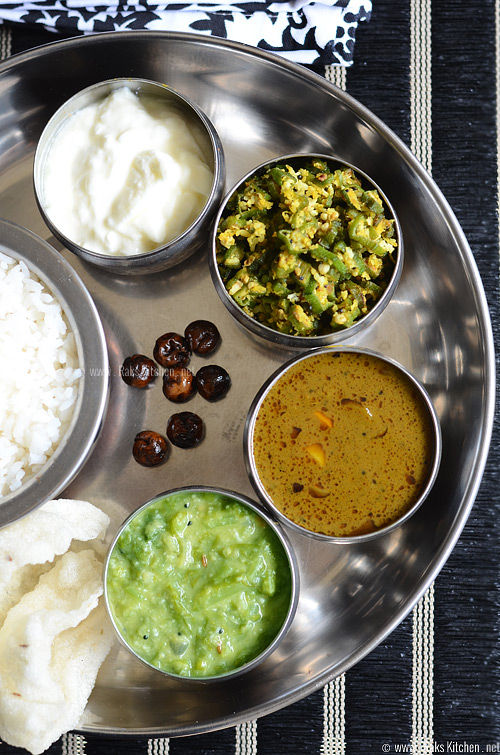 Got all the veggies today fresh from Little India and got a bunch of curry leaves. So immediately decided to make use in this kuzhambu.
This is very healthy, everyone knows the benefits of curry leaves, its rich in Iron. Its best home remedy to slow down greying of hair.
When you see your first grey hair, include curry leaves more in you every day diet and the rate of greying sure will slow down.
This is the best way to include curry leaves in diet. Otherwise, if we use in tempering and other ways in our cooking, we may pick it and throw away without eating it.
So here's how I prepared today's meal.
Instructions
South Indian lunch idea
Recipe Cuisine:Indian | Recipe Category: Lunch
Prep Time: 20 mins | Cook time: 40 mins | Serves: 3
Kept the pressure cooker with rice and dal (for kootu) separately in different vessels. Soaked the required tamarind in hot water.
Meanwhile, I cleaned the curry leaves, then keerai (spinach), peeled onion and garlic for the kuzhambu and then ladies finger, chopped everything.
Grated coconut for kootu and poriyal. By now the cooker was done. Then I extracted tamarind juice. Started cooking spinach for kootu.
As it was getting cooked, I ground for kootu and then curry leaves for kuzhambu.
Prepared kootu - this time, followed MIL method of adding only green chillies along with the keerai instead of sambar powder- it gives greeny look! Then temper kootu, temper for kuzhambu and let it boil in another stove.
Prepared poriyal as the kuzhambu getting boiled and now everything ready. I also fried some javvarisi vadam and some sundakkai vathal mom passed me.
Here are the links to the recipes in the above plate
Instead of keerai kootu you can also try other kootu and vazhakkai poriyal can also be replaced for vendakkai poriyal.
Check our Karuveppilai podi recipe if interested!
Have a great weekend! 😊