Paratha basket for lunch. This week, for a change, its a meal with paratha basket. This idea from my friend Sangeeta. She asked me to post bread basket like they have in restaurant menu.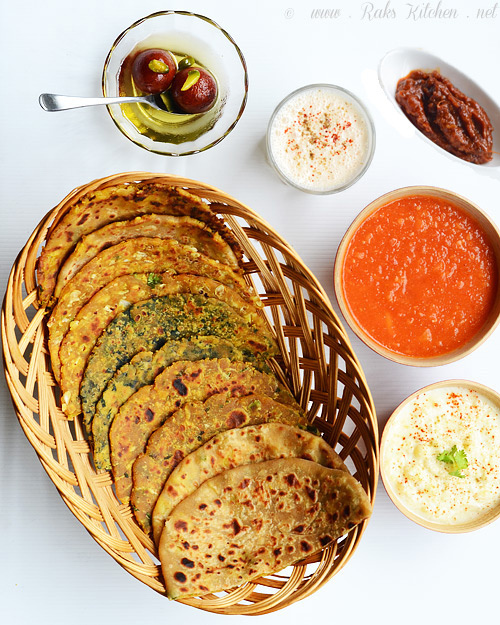 But Since I have only Naan recipe in my blog, I thought let me make it as a Paratha basket.
As far as this week's meal menu is concerned, its all about revisiting recipes and bringing some unsung hero recipes to spot light.
And once I made this today, I sat and ate and then only stated to type this post. Now I am full tummy!
Its Aloo paratha, gobi paratha, palak paratha, mooli paratha and Cabbage paratha with boondi raita, tomato dip, pickle,  chaas and gulab jamun.
Mooli paratha, I followed a different method of adding the radish to the dough instead the recipe I posted.
And the tomato garlic chutney here is a perfect side dish for paratha. check it out. So without much stories, let me move on to the preparation.
Instructions
Recipe Cuisine:Indian | Recipe Category: Lunch
Prep Time: 30 mins | Cook time: 40 mins | Serves: 4
First, prepare dough for the 2 stuffed Parathas with 1 cup of wheat flour. Keep a side. Grate 1 radish and mix it with salt and keep aside.
Grate cauliflower for gobi paratha. Finely chop cabbage for cabbage paratha. Clean spinach and chop it for palak paratha.
Next boil 1 potato for aloo paratha. I usually microwave it for 2 minutes and use it for aloo paratha.
Clean and chop coriander leaves for the parathas. If you are adding green chillies to any, then finely chop that as well. Keep the other ingredients like garam masala, red chilli powder, jeera, ajwain ready to add to the dough for the various parathas.
Get ready with 3 bowls for mixing dough for the 3 different parathas and 2 small bowls for keeping aloo stuffing and gobi stuffing.
Then prepare the gobi stuffing and transfer to the bowl. Make aloo stuffing also ready.
Heat a kadai and fry palak for palak paratha. Add it to a vessel. add all the other ingredients needed for the paratha and keep aside.
Take the ingredients needed for cabbage paratha in one of the mixing bowl, top with flour and squeeze the radish and take it along with other ingredients in another mixing bowl.
All the ingredients means – add salt, masala powders, oil and the corresponding veggie along with flour. 1 cup or ¾ th cup is enough. So you need the veggies also accordingly less in amount.
Mean while, you can soak boondi for boondi raita and preapare and keep aside. Prepare the tomato dip too and keep aside.
Prepare chaas and keep it chilled.
Once everything ready, at the time of lunch, make the dough by adding water to the prepared mix we have kept ready.
And make parathas and keep hot in a hot pack.
Cut the parathas and serve in a basket, mixed so that everyone can enjoy this mixed paratha basket.
I served with Gulab jamun as dessert, but its optional. Chaas is very much needed to end this meal, so make sure you serve it chilled along with the meals.
Here are the links to the recipes
You can browse the paratha recipes fully here.
Have a great weekend.😊