A simple south Indian lunch menu with sambar, curry and a varuval. I love drumstick sambar a lot as it is so flavorful. With vendakkai curry it makes a wonderful combo.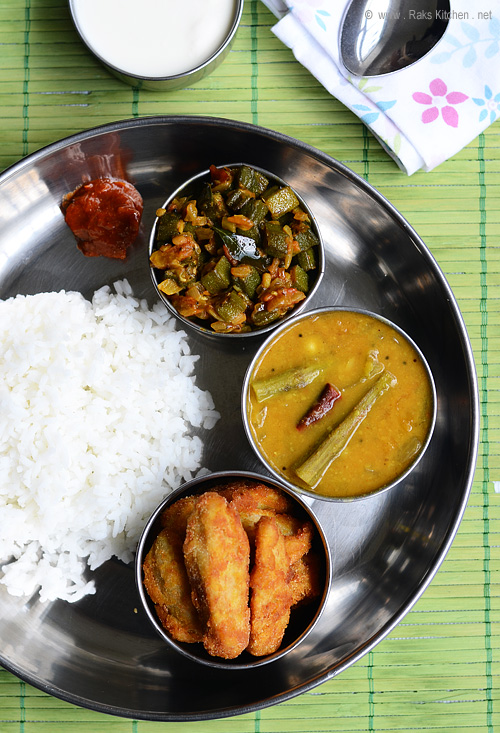 First of all really sorry for absconding just like that for past 3 weeks. Also with Diwali around, I was busy with that and I know most of you will be busy as well. That's why 😊.
I meant to post this lunch menu yesterday, somehow caught up with other works. So here is the lunch menu again kick started with this simple south Indian lunch.
Simple yet tempting I must say, with my personal favorite recipes. Always it is exciting to have a varuval in the lunch.
Instructions
So here is how I prepared this lunch.
Wash the colacasia (arbi/ seppenkizhangu) well two or three times. I have a small pressure cooker, so I pressure cooked arbi (seppenkizhangu) with enough water to immerse it for 3 whistles. If you add less water it will get mashed up. So make sure you add water to immerse it properly. I choose all same sized for this.
Once done, in the same cooker, pressure cooked toor dal for sambar. If you want keep rice also side by side for the lunch, I prefer to keep rice at last if its a weekend, as I prefer to eat hot. But if you want to finish up things fast, do side by side. Soak tamarind in hot water too.
Mean while, you can clean and cut drumstick first and let it boil in water, clean and chop ladies finger. Toss it with 2 tblsp sesame oil and in a microwave safe glass bowl, microwave for 3-5 minutes (depends on the power of the microwave) stirring often to ensure even cooking. This saves time and reduces oil usage. This is to reduce the slime, you can do the same in a kadai in stove top too.
Chop 2 onion each for curry, sambar and a tomato for sambar. Keep ready the curry leaves, red chillies  needed for this cooking. Peel and slice arbi and mix it with the other ingredients required for the fry.
Now on to the stove work. First temper for sambar and fry onion tomatoes and transfer to the boiling drumstick. Add tamarind juice, extracted from the soaked tamarind. Add required other ingredients for sambar and let it continue boiling.
Now prepare curry. It takes some time to prepare curry as we need to fry it for long time till oil seperates. By then sambar will be over too.
Lastly if not keep rice and fry varuval too. Keep curd or more and pickle ready and the lunch is ready for your family!
Here is what we see in the picture – steamed rice, drumstick sambar (murungakkai sambar), vendakkai curry (ladies finger curry ), seppankizhangu varuval (crispy arbi fry) and curd, pickle.
Recipe links
Check out the links for the recipes below :
Basic sambar recipe (here its with drumstick)
Other curry recipes please browse here.
Check out other varuval recipes like crispy ladies finger fries, crispy cauliflower fries and crispy bitter gourd fries. I hope you all are enjoying your weekend 🙂 .