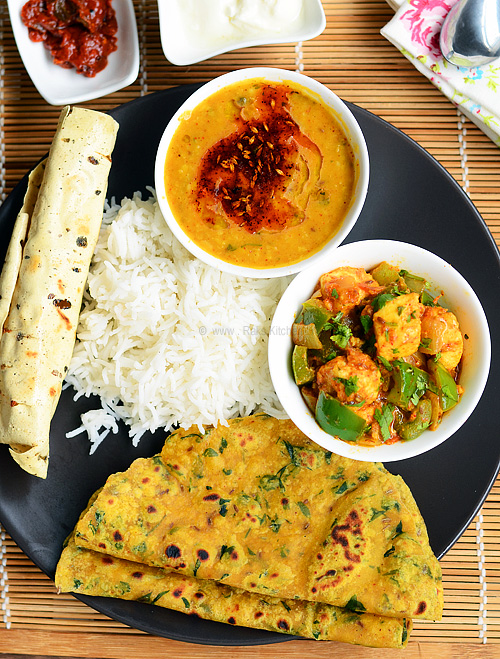 I clicked two south Indian
lunch menu
plans last week, having posted one already last time, this week wanted to go for a north Indian lunch menu. I bought a bunch of freshest methi leaves sometime back. Along with that bought vazhaipoo (banana flower) and I usually cook it as soon as I buy, otherwise I will keep forgetting or postponing, that it would become spoilt. Same way, I kept this methi leaves to clean and at last, when I saw the leaves starting get yellow, then I took it and cleaned and froze it finally. I always freeze methi leaves as I make only methi
roti
, as methi mutter malai is rare to cook coz of the cream part. But I love love this methi thepla or roti – both eating and making. It comes out so so soft and the rolling part is so very interesting, I love to roll this.
For this menu, I had methi leaves frozen, so my job was easy making it, if you too plan to make methi recipes, you can clean and freeze it when you are free, you can do it while watching tv or talking over phone.
Here is how I prepared this lunch menu. (considering you have methi leaves ready)
Soak basmati rice alteast ½ hour before cooking it. I always soak basmati rice as much as I can for long time. It ensures cooking with less water, so you get separate grains still soft too.
Fry the methi leaves and add it to the atta (usually frozen methi leaves – I add as such without frying), add all the other ingredients needed and prepare the dough with buttermilk and set aside.
Pressure cook dal and rice in two containers in a pressure cooker. You can do this according to your availability, do it two times in the same cooker, use two cookers etc.
Chop onion, capsicum and tomatoes and other needed ingredients like green chillies coriander etc. mean while.
Boil water and keep the paneer cubes immersed in water. By now rice and dal would be done and fluff the rice, mash the dal and keep aside.
Temper for dal and then prepare kadai paneer. Lastly roll and keep the theplas in hot pack.
That's it, toast papad and keep ready pickle and curd/ dahi in the table and you are ready for the lunch.
Lunch with methi roti/ thepla, kadai paneer, dal tadka, steamed rice, papad, pickle, dahi. Check out the links for the recipes
Check out other paneer recipes here.
You can also try other sabzi like cauliflower sabzi, aloo gobi, aloo gobi mutter, baby corn sabzi, aloo bhendi fry.

Other dals like simple dal tadka, green moong dal fry, dal palak or dal makhani.