Kuzhambu kootu combination with mochakottai kuzhambu and pudalangai kootu.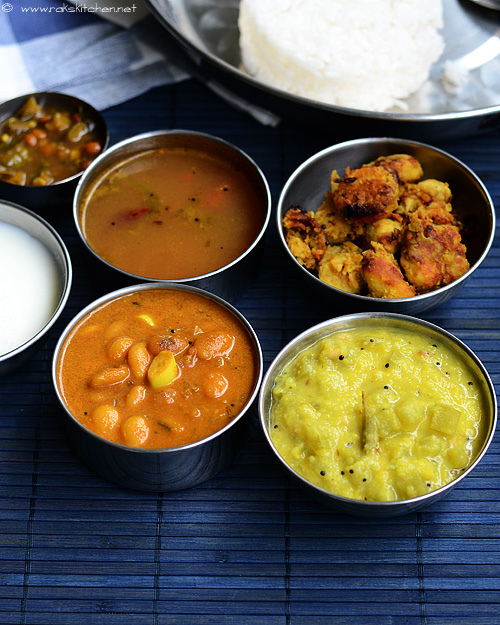 Today after long time I made mochakottai kuzhambu. Its one of my favorite.
I wanted to do a lunch menu post with mochakottai kuzhambu for a while now.
With in laws around, I cooked so easily today, with lots of talking and I was surprised when I realized I already finished cooking!
I always want to take a break from the regular sambar and mostly in weekends I make kuzhambu varieties other than sambar.
So here is how I prepared the lunch with Mochakottai kuzhambu, snake gourd kootu, rasam and spenkizhangu curry.
Instructions
Kuzhambu kootu combination
Recipe Cuisine:Indian |Recipe Category:
Lunch
Prep Time: 35 mins |Cook time: 45 mins | Serves : 4
We make mochakottai kuzhambu by roasting, then pressure cooking and not by soaking method. So I dint soaked it, if you want to make soaking method, soak the previous night itself.
Roast ¾ cup mochakottai and pressure cook and keep aside.
Soak tamarind for kuzhambu and rasam. Pressure cook arbi (seppankizhangu) placed in a container and dal + chopped snake gourd in another container for 3 whistles.
Meanwhile, peel garlic for kuzhambu and shallots (small onion) for kuzhambu. Chop the shallots and chop onion for arbi curry. 1 tomato for rasam. Keep ready curry leaves and coriander leaves.
Grate coconut for kootu and grind it, keep aside. Extract tamarind juice. Peel the seppankizhangu, slice and mix with the spice powders and keep it ready.
Prepare kootu and temper it first. Kootu work is over.
Prepare rasam (I do in kadai itself and finish it off quickly). Also temper it and finish rasam.
Then temper for kuzhambu and let it boil in a stove in medium flame as it will take some time for the mocha kottai to get soft.
Lastly prepare seppankizhangu curry. Both will take some time and you can use the time to clean up the kitchen and other works which can be done side by side.
Lastly keep rice and enjoy your lunch!
So here is what shown in the picture below – mochakottai kuzhambu, snake gourd kootu, seppankizhangu curry, Rasam, buttermilk, narthangai pachadi.
Recipe links
Check out the links
Have a great weekend