A north Indian lunch menu with simple dal, phulka, rice, a vegetable gravy and sabji. Rose milk to end the meal. This post is part of my lunch menu series, where I share menu ideas and link to the respective recipes.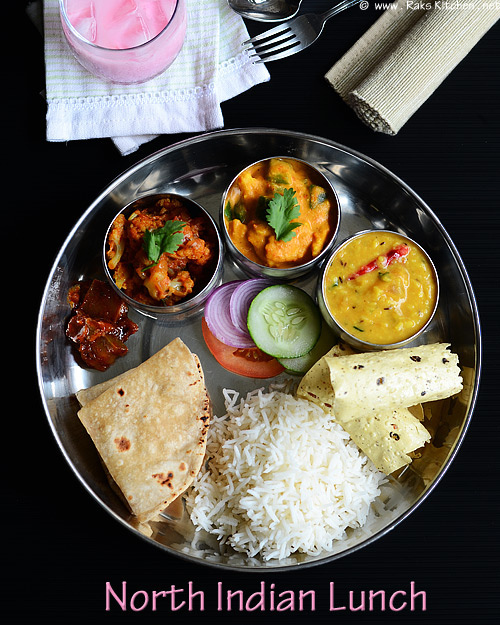 I tried to fit the phulka and papar in my plate, so I folded and broke the papad.
Since I am a south Indian, am always fascinated towards north Indian cuisine.
I love each and everything, right from basmati rice, dal. Dal and basmati rice is my most favorite. And so as Aj.
He too loves dal and rice 😎. Not that I don't like our south Indian meals. I do, but only if somebody else cooks for me and gives me a spread in my hands😉.
That's because, me bored of my own cooking. Sigh!.
Now this North Indian lunch menu was suggested to me by my friend Sangeeta. So I thought this weekend, I would post this one. 
So from this post onwards all my posts will be scheduled posts as I am flying to Chennai coming week.
Will be busy busy shopping and packing, so I have scheduled all the posts for next few weeks.
I may not reply your queries immediately, but sure will do when ever I find time! And now to the North Indian Thali.
This particular plate has the following :
And Steamed rice, papad, Sliced onion cucumber tomato and pickle. I also had rose milk as a drink 🙂.
I have few other simple north Indian menu ideas, will sure come up with interesting ones in recent future. Have a great weekend!