Indian lunch menu idea with north Indian dishes. This is just an idea as part of my lunch menu series. Check individual links for respective recipes.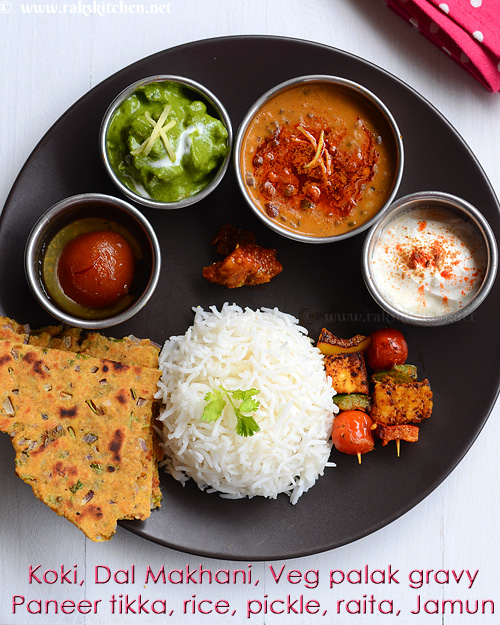 In this blog post, I share a menu combination with steps to explain how to plan and prepare the menu roughly.
All the recipes are given separately in which I have written the recipe detailed. Check out the links provided for respective recipes.
Jump to:
I always wanted to make paneer tikka in a lunch menu.
I saw a lunch combo when I was browsing Instagram in which Rice, paratha, raita, paneer tikka, dal and soya masala gravy was there.
Added jamun which I made with MTR jamun mix (I shared in my Instagram profile) to the menu for dessert part.
When I made jamun, I thought I should make a north Indian lunch menu.
So made this before the Jamun gets over. Wanted to post last weekend itself but I didn't edit pictures or wrote post.
Indian thali preparation
Soak rajma, urad dal for dal makhani overnight. (Jamun was also prepared prior)
While preparing breakfast, side by side pressure cook for dal makhani.
After breakfast, when you start your lunch work, first marinate for paneer tikka.
Chopping work
Cut vegetables for veg palak gravy, including preparing palak.(can be done before night too)
Cube onion for paneer tikka, veg palak gravy. Finely chop one for Dal makhani, koki
Tomato for paneer tikka, dal makhani
Cube capsicum for paneer tikka.
If you don't have ginger garlic paste, peel ginger and garlic for making fresh paste for using in dal makhani, veg palak gravy.
Green chilli for dal makhani, Koki, palak gravy.
Coriander leaves for palak gravy, koki and garnish.
Keep all the masala powders ready.
Now on to the stove work. Pressure cook rice in one stove.
Temper for dal makhani and simmer it in another stove.
Sautee for palak gravy, set aside for cooling down.
Temper for veg palak gravy and cook vegetables, in between which you can grind the palak for gravy. Finish veg palak gravy.
Mix raita.
Lastly prepare dough for koki. Make hot parathas.
I made very little paneer tikka so made cocktail paneer tikkas in tawa itself. In the same hot tawa after finishing parathas, can finish making paneer tikka in one go.
If you want you can add papad to the menu.
Recipe links
Check out some drink recipes