Everyday south Indian food - This post is part of my Lunch menu series I share weekly. Just to share some meal ideas to decide when you are in doubt what to cook.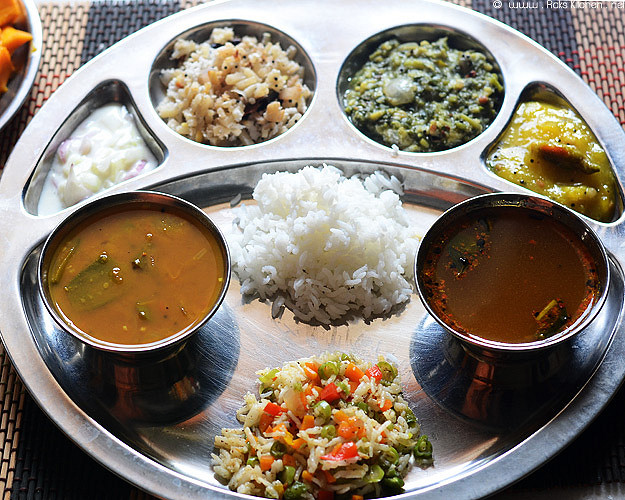 This is also one of the meal I cooked when I was in Chennai. So please excuse the Picture and presentation quality 🙂 We were just planning for a south Indian meal, while some guests came, so we added on a fried rice.
Just 3 days before the wedding, so we wanted to empty the fridge 😉  I was supposed to post it yesterday, but posting it late today, sorry about that!
Though I have named it everyday south Indian lunch, this is quite elaborate meal yet all are simple recipes. Hope that justifies the post title.
Ours is a big family. We are family of 8 adults and the kids. So If we all are together, we make a bit elaborate menu as one vegetable side dish or one sambar won't be enough for all.
So there will be sure podi or thogayal, 2 vegetables and sambar definitely. This is one such day where a typical south Indian food happened. Except for the fried rice, this has all simple dishes that we can make in everyday basis (not special items like vadai payasam)
I have not shared anything on how I prepared for this lunch because it has been a crazy day and did not actually plan and cooked continuously . So did not want to write my imaginary preparation, haha.
That day, we had the following for lunch :
Plain Rice
And some potato chips, appalam and cut ripe mangoes as sides too. Most of the day's lunch will be having mango pachadi in the menu because its a family favorite there 🙂 I was not a big fan, but now a days slowly developing taste for it!
Soon will come up with exciting lunch ideas, stay tuned.