Its almost 2 weeks since I am back from India, but still taking my own time to come back to the routine. I hope I will soon as Aj's school reopened 3 days back. Its been a long while since I had the different kind of meals, so this weeks meal idea gonna be with North Indian recipes. I tried aloo bhindi fry recipe for the first time(though I have tried
aloo bhindi
masala) and it was simple and good. Will post the recipe on Monday. Thanks to Sangeeta again for the idea and recipes. And I hogged on both the parathas as soon as I finished clicking as I was really hungry and temped myself with the combination of boondi raita 🤫.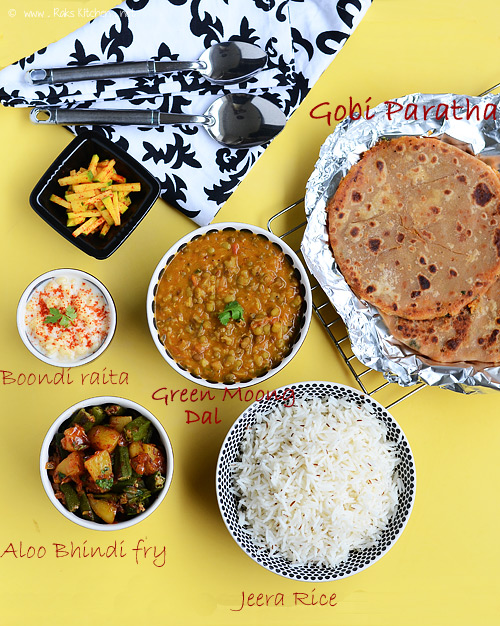 There you go, the recipes :
Aloo Bhindi fry – recipe coming up
Browse the other Paratha recipes here.
Other dal recipes that can be made : Dal fry, Dal tadka, rajma masala, dal makhani.
You can replace Jeera rice with Peas pulao too.
Aloo bhindi masala recipe here. Aloo bhindi fry recipe will post on monday 🙂.