North Indian lunch idea - Are you bored of your regular lunch like me, being a south Indian. Make the same combos with rice and south side gravies/ side dish?
This post is just a menu idea with the different combo from the recipes from my website. Detailed recipe and method in individual posts. Please check the links provided.
Its almost 2 weeks since I am back from India, but still taking my own time to come back to the routine.
I hope I will soon as Aj's school reopened 3 days back. It's been a long while since I had the different kind of meals, so this weeks meal idea gonna be with North Indian recipes.
I tried aloo bhindi fry recipe for the first time(though I have tried aloo bhindi masala) and it was simple and good. Will post the recipe on Monday.
Thanks to Sangeeta again for the idea and recipes. And I hogged on both the parathas as soon as I finished clicking as I was really hungry and tempted myself with the combination of boondi raita 🤫.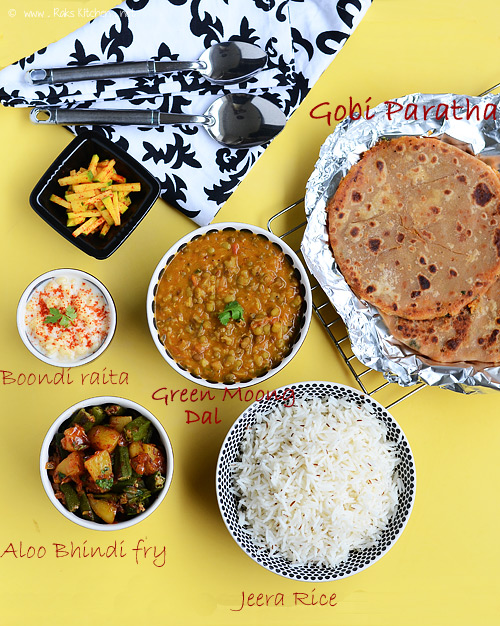 There you go, the recipes in this north Indian lunch idea :
Browse the other Paratha recipes here.
Other dal recipes that can be made too
You can replace Jeera rice with Peas pulao too.
Aloo bhindi masala recipe here. Aloo bhindi fry recipe will post on monday 🙂.