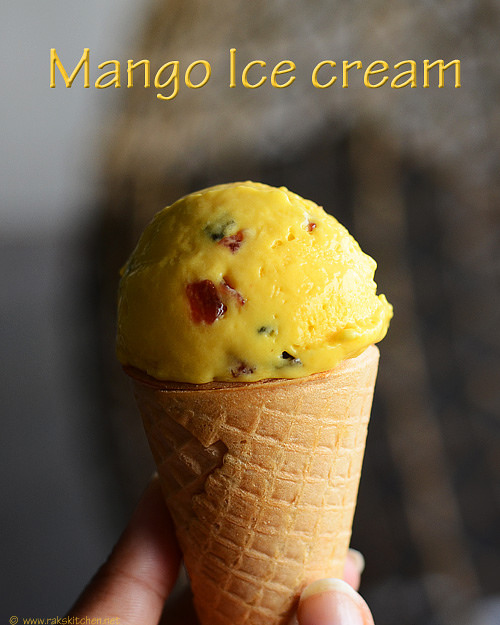 This is the first ice cream recipe I am posting for this summer. when summer started, many readers suggested posting homemade ice cream recipes. I did few for the magazine book, but didn't thought I would make again and post here. But Mango ice cream is too hard to resist posting. Vj also is a mango lover, so I made it again last week. I added few raisins and tutti fruity when I made first time and it was a great addition to the ice cream. This time I just added tutti fruity alone. I just love it in the ice cream a lot. With the fresh smell of mango, the ice cream comes out really rich and creamy. You can follow the same recipe in ice cream maker too. But this one is done without any ice cream maker.
Mango Ice cream recipe
Recipe Cuisine:
Indian
|
Recipe Category:
Dessert
Prep Time
:
12 Hrs freezing time
|
Cook time: 0 mins
|
Serves
:
8 scoops
Ingredients
Alphonso mango – 2
---
Sugar – ¾ cup
---
whipping cream – 1 cup
---
Tutti frutti – 4 tbsp
---
Milk – ½ cup
---
Method
Scoop and collect pulp of mango with a spoon and place it in a blender with sugar, milk and blend well until sugar is dissolved.

Add whipping cream and whip for a minute or until all the ingredients are mixed well.

Pour into a broad, freezer safe airtight box. Freeze it for 3 hrs.

Take out and grind again in a mixer until smooth After 1-2 hours.

Add tutti frutti and freeze for 6 hrs or overnight. Scoop and serve.
Notes
Adding tutti frutti is optional and you can skip it.
If you do not get whipping cream you can try using regular cream too. But this tastes best.
Grinding few times ensures soft texture of the ice cream, so make sure you grind atleast once and dont mind the mess.
You can use ready made sweetened mango pulps available in tins. Reduce sugar accordingly.
Best dessert one can make with mangoes. Arent the tutti fruttis tempting you to pick and eat?