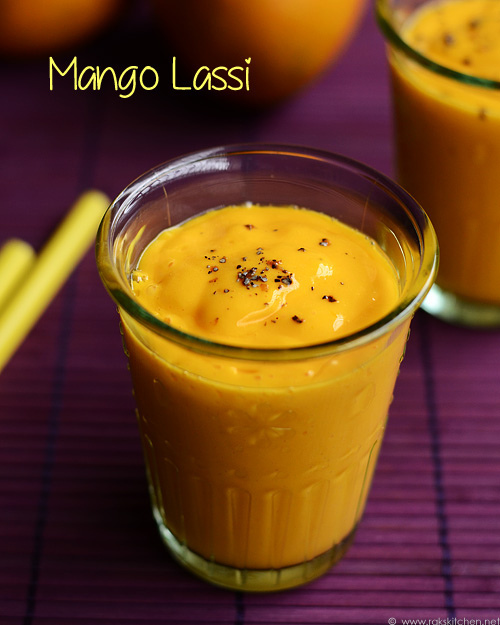 I know this is quite simple to make, still how can I be without posting mango lassi when mangoes are in season. I just got a box of alphonso mangoes that are sweet, yellow and flavorful. So thought of making mango lassi and clicked to have mango lassi recipe here in my blog too. Nothing fancy, just make it when you have mangoes and curd. I am from the place which is famous for mangoes (Salem) but I am not a big fan of mangoes!! And trust me I have no idea why Salem is so famous for mangoes, I have not found anything special with the mangoes during my childhood. May be Salem produces lots of mangoes. Even my mom says the same. Anyways, here's the simple mango lassi recipe and hang on for another interesting summer special recipe with mangoes.
Mango lassi recipe
Recipe Cuisine:
Indian
|
Recipe Category:
Drink
Prep Time
:
5 mins
|
Cook time: 0 mins
|
Serves
:
2
Ingredients
Mango pulp from 2 mangoes (I used alphonso) – ¾ cup
---
Curd (plain yogurt) – ¾ cup
---
Milk – ½ cup
---
Sugar – 3 tblsp
---
Elachi (optional) – 1
---
Method
Wash and slice the mangoes along the sides of the seed. Scoop the pulp with a spoon and collect ¾ cup. Place it in blender with curd, milk,(both cold) sugar and elachi(if desired). Blend until smooth and serve immediately. You can add few icecubes if you want it super cold.
Notes
I used thick fresh curd so I used milk for making it in right consistency. So adjust milk quantity according to the thickness you want.
Also adjust sugar as per you choice and mangoes sweetness.
Do not let it stand out for long time, consume immediately as we are using milk.
Yummy, thick, rich, filling mango lassi is perfect as drink for this hot summer!