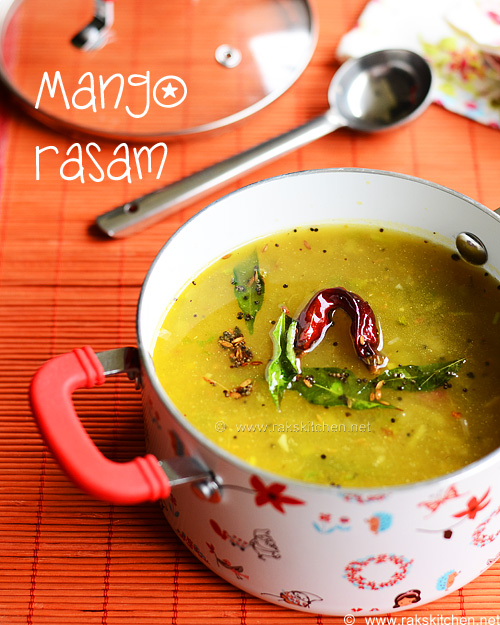 Mango charu (Mango
rasam
) – tangy, with full of mango flavour and tasty. I have never imagined this idea of making rasam with mango, until a reader friend(Bhavani) sent me the recipe and picture and asked me to try. Since it's mango season, I know I will try it out. Had few doubts about the ingredients in the rasam that, how it will taste together. But it was perfect and yummy! If you have not yet tried this one, you must try this one in this mango season. Me and Vj liked it a lot.
Other mango recipes :
Mango sambar
,
Mango sweet pachadi
,
Mango rice
,
aam ka panna
,
Instant mango pickle,Cut mango pickle
,
Mango thokku
,
Mango thogaiyal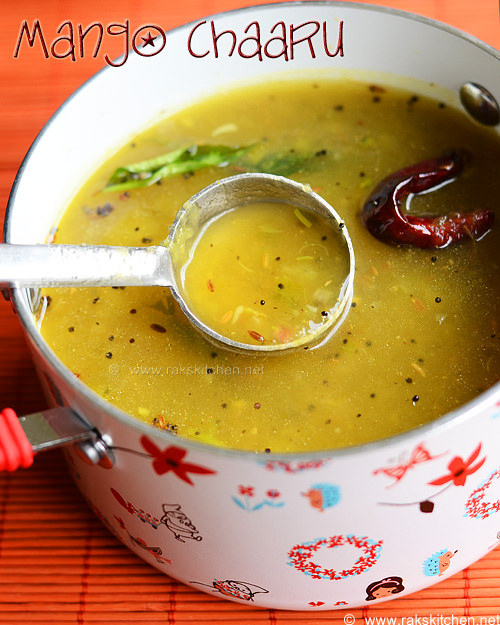 Mango rasam recipe
Recipe Cuisine:
Indian
|
Recipe Category:
Side dish
Prep Time
:
10 minutes
|
Cook time: 20 mins
|
Serves
:
4
Ingredients
Mango, un ripe – 1
---
Small onion/ shallots – 5
---
Turmeric – 1/4 tsp
---
Salt – As needed
---
Green chilli – 3
---
Jaggery – 1 tsp
---
Coriander leaves – 1 tbsp, chopped
---
To grind
Green chilli – 2
---
Black pepper – 1 tsp
---
Cumin seeds – 1 tsp
---
To temper
Oil – 1 tsp
---
Mustard – 3/4 tsp
---
Red chilli – 1
---
Asafoetida – 1 generous pinch (Optional)
---
Curry leaves – 1 sprig
---
Method
Peel the skin of the mango and slice it roughly.

Pressure cook by placing in a container without water for 2-3 whistles.(adding water only in the cooker, not in the vessel with mango)

Once done, mash the mango well and add 2& 1/2 to 3 cups water, salt, turmeric and slit green chillies.

Mix well and bring to boil. Mean while, powder pepper, cumin seeds and green chilli.

Add it to the rasam, add jaggery and boil well for 2 mins.

Lastly add finely chopped onion, coriander leaves.

Temper with the items under 'To temper' table and mix in to the rasam.
Notes
You can make without onion too. I found, before adding onion, the rasam had more of mango flavour. After adding onion, it changes, but in a good way.
Depending on the size and tanginess of the mango, adjust the water quantity. Also note that you have to balance salt, spice accordingly.
Serve hot with rice. We had with rice, but it tastes great as such too. I loved it to have it as such.