Easy mango sago recipe with condensed milk and sago. With step by step pictures for easy understanding! My hubby is not so foodie,he will eat whatever I cook,he has no expectations,obligations regarding food…When I ask him what do you want for dinner/lunch or anything specific you want-his answer will always be 'as you like/as per your wish/anything is fine for me'. It will be once in a blue moon when he asks me something.
Most of the time it would be Kesari 😏That blue moon came a month back,when he had this Mango Sago with his colleague in a food court near his office one evening. He told me he liked it very much and even managed to tell me the ingredients and the way to make. I was postponing as mango season just passed, but yesterday when I saw gundu mangoes in Fairprice, I took one,determining instantly to try that out and treat my man 😉
I google-d for the recipe for reference,still came out with a simpler way than elsewhere…😉thats coz for my convenience and ease. Its an easy to make,mild sweet pudding/dessert,has to be served chilled…!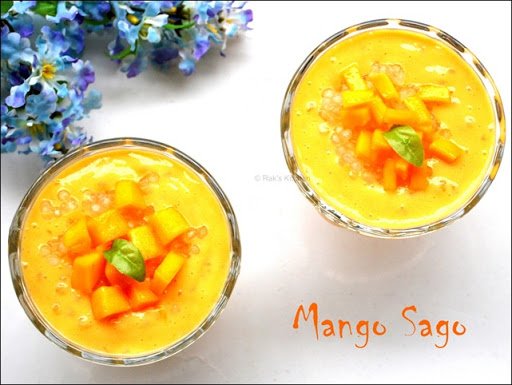 Mango sago recipe
Recipe Cuisine: Oriental  |  Recipe Category: Dessert
Prep Time: 1 hr soaking time    |  Cook time: 15 mins    |  Serves: 3
Ingredients
Ripe mango – 1 big sized(1 & ½ cup approx.)
---
Sago (small) – ¼ cup
---
Condensed milk – ½ cup
---
Milk – ½ cup
---
Sugar –  1 tbsp (If needed)
Method
Soak sago for an hour. Wash it to remove excess starch before and after soaking process.I used the small ones,not too very small variety also,size of black pepper.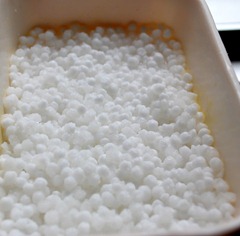 Boil enough water first and add the soaked sago and cook until its soft and translucent.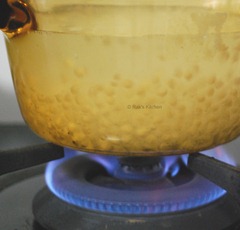 Drain water in strainer and wash it under running tap water to wash out the excess starch.
Chop the mangoes (no skin) and reserve finely chopped mango pieces(¼ of a mango) for garnish.
Blend rest of the mango pieces with condensed milk and milk,sugar if desired to a smooth paste.
Add more milk if you want to change the consistency.Transfer to a bowl,add the cooked sago.
Mix well and keep refrigerated. Garnish with chopped mangoes just before serving.
Notes
The original recipe uses evaporated milk and sugar. I replaced with condensed milk.
If you want you can add mango juice too in this.
Adjust the sweet according to your taste and I used low fat milk and low fat condensed milk.
Tastes great when served chill,enjoy the awesome texture of sago and mango combo!