Mango sorbet is a must try for mango lovers this mango season! This is so simple, easy with only 3 main ingredients – Mango, sugar and lemon. And it gives full satisfaction for mango lovers. Plus a treat for this summer. I made this for the second time after I loved it when I made it for the magazine. Since I loved it, I decided to post it here. Without any blah blahs, here is the recipe.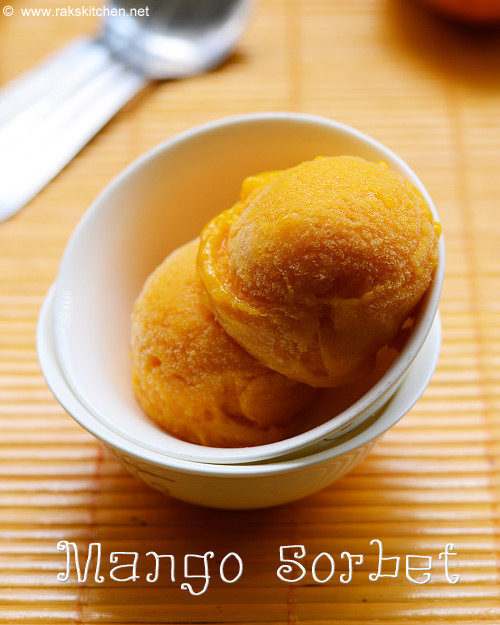 Mango Sorbet recipe
Recipe Cuisine:
Indian
|
Recipe Category:
Breakfast
Prep Time
:
5 mins+ 10 hours freezing time
|
Cook time: 5 mins
|
Serves
:
3
Ingredients
Mango pulp – 1 cup
---
Sugar – ½ cup
---
Water – ½ cup
---
Lemon juice – 1 tblsp
---
Method
Slice the mangoes along the sides and scoop out the pulp using a spoon. Scrap the pulp from the seed as well and collect 1 cup of pulp. Place it in a blender, puree it first.
Make a simple sugar syrup by heating sugar and water and just bring to boil to dissolve the sugar completely. Cool down and blend it with the mango pulp, lemon juice.
Transfer to a freezer safe airtight container and freeze it for an hour.
Take it out, mix it until smooth, with a fork. (For smoothest texture of all, you can grind the sorbet in mixie instead of mixing with fork).Repeat the same every half hour for 5 more times. Then freeze for 6 to 12 hours depending on your freezer temperature and conditions. Scoop and serve.
Notes
If you have icecream maker, you can churn the sorbet as per the instructions. This will give you the best result of all – Smoothest sorbet, equal to icecream's texture.
I used alphonso mangoes for vibrant yellow coloured result.
Lemon juice not only adds a tangy taste, but also must be helping in its texture. So do not omit.
MIxing with fork every half hour for 5-6 times helps in smooth texture.
Freeze the serving bowls too for an hour before serving and scoop the sorbet to serve it.