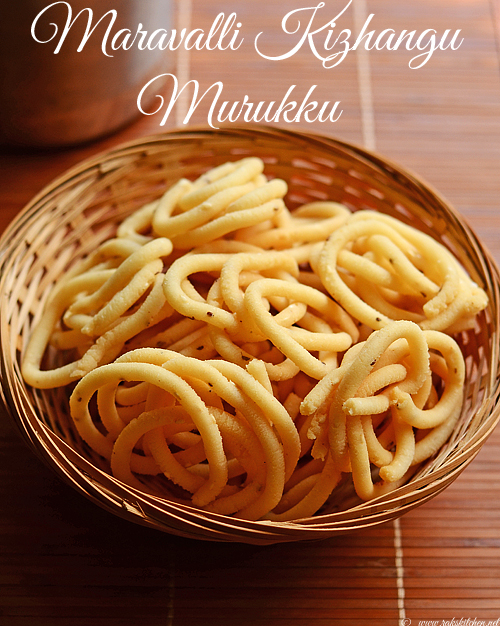 I have tried this tapioca murukku long time back once when I came to Singapore after marriage. We usually buy tapioca often and cook it with salt to have it as an evening snack. Before marriage, at salem we used to buy this from the street vendor who brings this tapioca in a sack, behind in a cycle. They will keep some fresh tapioca plant leaves. He sells it shouting " kilangu kuchi kilangu". After marriage, at my inlaws place, every one is big fan of it. This is the most wanted snack there. t no time, the kizhangu will disappear. After I came to Singapore, I often buy and make this for Vj. Here the texture is bit different than the Indian tapiopca. Here it has more fibre in it. Yet I often buy. We can buy tapioca in wet markets and also peeled tapioca in Fairprice.
So here's my very own tapioca murukku, which is crispy and really flavorful. Great tea time snack. Jst few pieces is enough to make this murukku, so next time when you cook tapioca, save few and try this murukku. Tapioca is also known as Cassava, kappa, kappa kizhangu, kuchi kizhangu and maravalli kizhangu.
Kuchi kilangu recipe
Recipe Cuisine:
Indian
|
Recipe Category:
Snack
Prep Time
:
15 mins
|
Cook time: 35 mins
|
Makes
:
20
Ingredients
Rice flour – 2 cups
---
Boiled, mashed tapioca – ½ cup
---
Butter – 2 tblsp
---
Sesame seeds – 2 teaspoon
---
Ajwain or cumin seeds – 1 teaspoon
---
Asafoetida / Hing – A generous pinch
---
Water – as needed
---
Salt – as needed
---
Oil – to deep fry
Method
To peel the tapioca, first, trim the sides. Cut into few pieces as shown in the picture. Then divide cut each cylinder to two.

You will be able to see a thick layer of the skin in this. One brown and one pinkish. Both will be stuck to each other. Using a metal dosa flipper (a flat sharp spatula), insert in between the skin and the kizhangu and you will be easily able to peel off the skin. Refer my video for easy understanding if you are new to learn it. Wash the kizhangu well and boil it with enough water until its cooked.

Remove the thick root in the middle of the kizhangu if you find any and break it roughly. Measure ½ cup approx.

Grind this with softened butter, little water to a smooth paste.

In a mixing bow, add flour, sesame, ajwain seeds, hing, salt and the ground paste. First mix this well, later add water little by little and make a smooth dough without any cracks.

Heat oil side by side. In a murukku press with any of your favorite shape plate fixed, fill with dough. Squeeze murukku over few broad greased ladles. When oil is hot, drop these murukkus by flipping the ladle in the oil. Put the flame to medium and cook both sides, until the bubbles ceases and noise reduces.

Drain when done over paper towels. Cool down completely before storing.
Notes
I used store bought rice flour. You can use fresh homemade flour, or even store bought ready made idiyappam flour.
Which ever type of rice flour you use, make sure its a fine powder, not coarse, otherwise the murukku will easily break while squeezing or after cooked.
If your flour is fine still, the murukku breaks, try sprinkling little more water and knead.
The murukku takes a while to cook, so be patient otherwise it will be chewy.
Do not add more tapioca than mentioned otherwise the murukku will take too long to cook.
The murukku is very very crispy and light too with a hallow middle. It becomes more flavorful the next day.