Masala chaas is Vj's favourite one to order at Kailash parbhat, when ever we go there. I too have tasted it and loved it. Wanted to try and post for long time. Even though I have made it few times and also you would have seen it in few of my North Indian
Lunch menu
s, I promised to post it soon in future, but kept postponing as its very simple recipe😋. But I know this may help many beginners in cooking, who don't have any idea what masala chaas means. Even Bachelors can try it, if they have mixie with them. It is very good for digestion and most importantly, its super tasty too. I like the spicy twist in this chaas, I have tasted in Kailash parbhat. They use fresh red ripe chillies, which is really hot and spicy in this chaas. They have named this as 'Special' masala chaas, and I have tasted their another plain masala chaas also, the difference being this extra hot red ripe chillies and the special masala chaas is more thick and rich with a buttery flavour too.
One more special ingredient my friend Sangeeta always insists me to add to chaas is Black salt also known as Kala namak in Hindi. It really adds a nice touch to this chaas. Bhuna jeera(roasted cumin seeds) adds flavor as well as helps in digestion along with the beaten curd in this chaas recipe. My personal favorite ingredient is a pinch of chaat masala😍, though I am not sure if its added in the authentic recipe. But I just love it in this chaas. So try this one when ever you want a filling drink after a meal, especially goes well with any North Indian lunch menu. Also check out south Indian
Neer mor recipe
!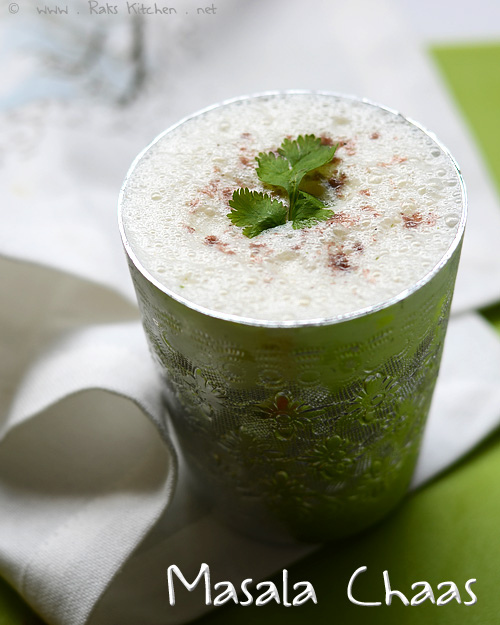 Masala Chaas recipe
Recipe Cuisine:
Indian
|
Recipe Category:
Drinks
Prep Time
:
5 mins
|
Cook time: 2 mins
|
Serves
:
1
Ingredients
Thick curd – 1 cup
---
Fresh red ripe chilli (or green chilli) – 1, de-seeded
---
Roasted jeera powder – ½ tsp
---
Black salt – 3 generous pinches
---
Coriander leaves – Few
---
Salt – As needed
---
Chaat masala – 2 pinches
---
Method
I usually prefer roasting some jeera (cumin seeds) and storing it in airtight container and use it when ever needed for chaas, raitas, stir fries. But you can just dry roast 1 teaspoon of jeera and use it here in this recipe. You can either powder it in hand mortar and pestle or just grind it in the mixer along with chillies. I powdered in mixer as I did little more than needed to store and use.
Deseed the chillies and chop roughly. Blend curd, chillies, jeera powder, coriander leaves, salt well, until its frothy. You can add black salt while blending or for garnishing too. I used for garnishing. (I changed the mixer as the one I used gone faulty in between, so u may find two blenders)
Notes
You can make a lot of variations in this chaas recipe, you can add curry leaves, asafoetida, ginger etc and make your own favourite version.
You can add little water and make it bit thin version too.
Garnish with chaat masala (optional) and black salt, the most important ingredient and serve chilled.