I have been thinking to try this for more than 2 weeks now since my friend Sangeeta told the recipe. I thought it would be a chaas recipe until the day before I tried. But she said it is pukka mor recipe and even suggested to present with 'Sombu' here in the pictures. I was first sceptical to try this as it had both ginger and garlic in this recipe. So I double confirmed her if it will be stinky. But she told you wont even know that there is both ginger and garlic in this and as she said, when I made and had, it was so so delicious and awesome. Its very simple, perfect for this summer and you can make use of the last too sour curd you have if any. Otherwise you can make it with fresh curd too. I am sure this will be fresh for you, different from
neer mor
and
masala chaas
. Impress everyone with this masala mor this summer!!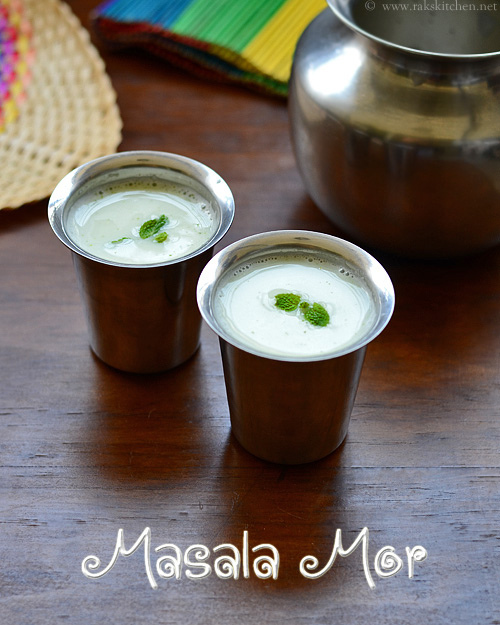 Masala mor recipe
Recipe Cuisine:
Indian
|
Recipe Category:
Drink
Prep Time
:
10 mins
|
Cook time: 0 mins
|
Serves
:
4
Ingredients
Curd/ Plain yogurt – 1/2 cup
---
Mint leaves – 8
---
Coriander leaves – 2 sprigs
---
Garlic – 1 flake
---
Ginger – Small piece same as garlic size
---
Green chilli – 1
---
Water & Salt – As needed
---
Method
Clean the ingredients needed and grind it with curd and little water, salt using a blender.

Filter it and add more water to make it thin consistency and adjust salt as needed.
Notes
Do not add more leaves or ginger garlic as it will over power.
You can add 1/4 tsp of jeera or ajwain/ oman to this while grinding. Not more than 1/4 tsp but.
The consistency is purely your choice, so add water and salt accordingly.
Keep refrigerated and serve chilled when ever needed. And Beat the Heat this summer.