Masala papad is an Indian snack/ starter, that can be prepared very easily, yet very appetizing and delicious starter.
It uses papad – a north Indian style papad specifically. This papad is made out of urad dal (black gram dal) as main ingredient and comes in different flavors. It is made as discs, sun dried and preserved so that it can be fried or toasted when ever needed. This is used as an accompaniment for lunch and at times as starters along with green chutney.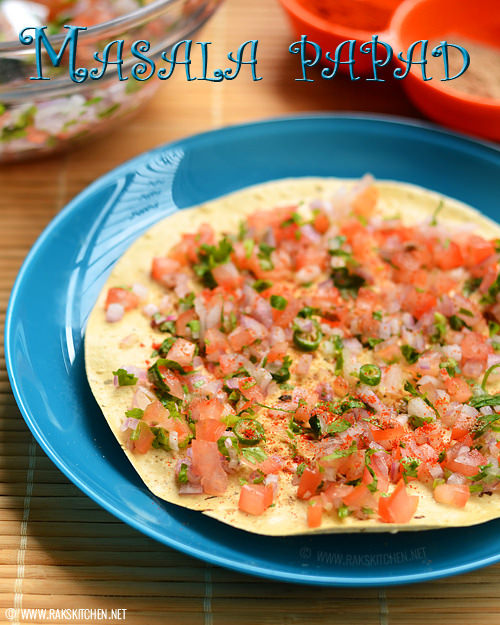 The one we use for masala papad is with black pepper in it. Quite spicy by itself. Making masala papad at home is so very easy. I have made a lot of times after I came here to Singapore. Now for past few years have not made at home. I tasted masala papad first at Chennai and since I love it💜, I started making it quite often when I came here. The ingredients are so simple, that we can guess it by tasting it. Very easily available ingredients. This can be made in parties and sure will be a hit. When you crave for something to snack in weekends, you can make it in a jiffy and can be enjoyed. I always love onion, tomato, coriander, lemon juice along with chaat masala combo. So this sure is a top favorite for me.
Check out my another favorite starter
peanut chaat recipe
.
Masala papad recipe
Recipe Cuisine:
Indian
|
Recipe Category:
Starter
Prep Time
:
10 mins
|
Cook time: 10 mins
|
Serves
:
4
Ingredients
Papad – 4
---
Onion – 1
---
Tomato – 1
---
Coriander leaves, finely chopped – ¼ cup
---
Lemon juice – 1 tsp
---
Red chilli powder – 1 tsp
---
Chaat masala – 1 tsp
---
Green chilli (optional) – 1
---
How to make masala papad step by step method
Heat a tawa (pan) and toast the papad both sides by constantly pressing the papad with dosa flipper (spatula). Let the flame be in medium while you toast.

Deseed tomato and finely chop it, finely chop onion, coriander and green chilli as well. In a mixing bow, add all the ingredients.

Add lemon juice and stir to mix well.

To serve, place the papad in the serving plate, spread the prepared onion tomato mixture evenly.

Depending on you spice level and taste preference, sprinkle red chilli powder (2 pinches) and chaat masala (3 pinches) over the papad and serve immediately.
Tips
You can toast papads and keep it in a cover, keep refrigerated until use.
Always chop everything freshly when you are going to serve.
Serve immediately as you spread the onion tomato mixture.
I love a lot of coriander and chaat masala in my papad.
Carefully handle the papad as it might break easily.
You can use the tiny mini papad and serve as cocktail masala papads.
Enjoy the masala papad as snack or starter in get togethers/parties!