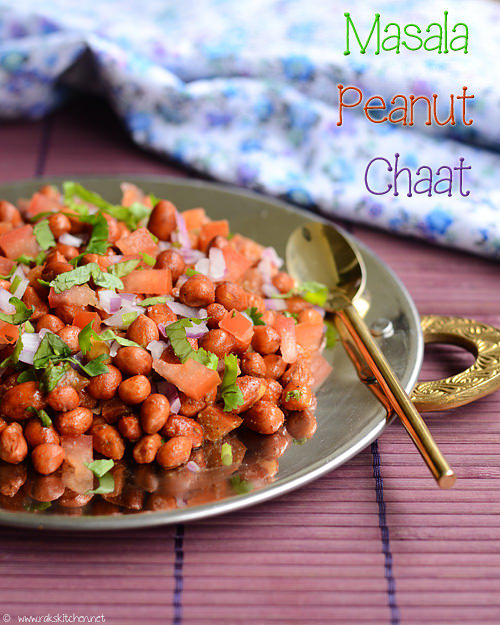 I tasted this masala peanut chaat first at Kulu at the place we stayed. Vj introduced this dish to me and i loved it the very first time I ate. Then during that stay we ordered that several times. After that I had no chance of tasting it in any other restaurants. Recently, when we went for shopping at Expo, we stopped for snacking at Indian Curry House restaurant there. I was surprised and excited to see this masala peanuts chaat in their menu. So I happily ordered and had. Though it didn't match the taste we had at Kulu, it was quite delicious. So I immediately added it to my To try list. So today, I thought I will make it for post. And I have tried this two times before this, but something went wrong and became soggy. But this time, it came out perfect! The one we had at Kulu was deep brown in colour, no idea how it was like that, but the one I had in Indian curry house here in Singapore was same like mine.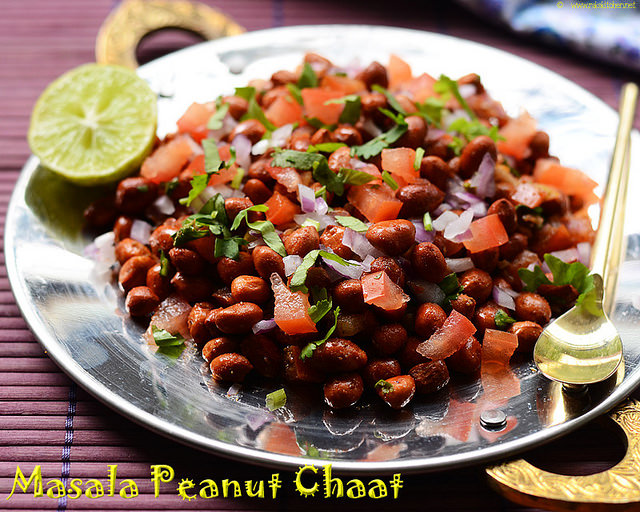 Peanut chaat recipe
Recipe Cuisine:
Indian
|
Recipe Category:
Snack
Prep Time
:
5 mins
|
Cook time: 5 mins
|
Serves
:
2
Ingredients
Roasted peanuts* – 1 cup
---
Onion – 1
---
Tomato – 1
---
Chopped coriander leaves – ¼ cup
---
Lemon – ½
---
Red chilli powder – 1 tsp
---
Chaat masala – 1 tsp
---
Oil – 2 tsp
---
Stove top : Heat a kadai, dry roast peanuts in low flame. Do it slowly to avoid burning and to ensure even roasting.

Oven : Pre heat oven at 180 deg C. Spread peanuts in a oven proof tray. Bake for 7 mins first. Stir it and again bake for 4-5 minutes or until the peanuts turns slightly dull in colour. After roasting, the peanuts should be cooled down completely before using in this recipe.
Method
Chop onion finely, deseed tomato and chop it finely as well. Keep the ingredients ready. heat kadai, add oil, when the oil is hot, put off the flame. Add red chilli powder and chaat masala powder.

Immediately add the peanuts and toss well. Do not let it get burnt. Transfer to a mixing bowl and add onion, tomato, coriander and squeeze lemon.

Mix well and add more chaat masala as needed to balance salt. Mix well and serve immediately.
Notes
You can use store bought roasted peanuts too. It can be with or without skin. I prefer with skin.
You can add chopped raw mangoes to this. But its optional.
Red chilli powder and chaat masala powder has to be adjusted according to one's individual taste.
Always sever immediately. Otherwise it will become soggy. Best evening snack, packed with protein!