Methi papad sabji is a flavourful accompaniment for rice or roti with fenugreek seeds and urad dal papad as main ingredient. I had this during our Pune Marriott stay. This was one of the item in their menu
Ghar ka khana
. I could not believe it was methi seeds in the subji because it was just like any other legume/ dal. I had a doubt how come methi can be this much tasty and without any bitterness. So decided to try on my own. I referred Chef Harpal Singh's video, but partially adapted it and adjusted the recipe according to my taste preference. When I was cooking this one, Aj told it was really flavourful. I loved it with roti. It had a very mild bitterness. But I guess you can remove it completely by pre cooking the methi seeds, washing the methi seeds before and after cooking and then proceed with the recipe.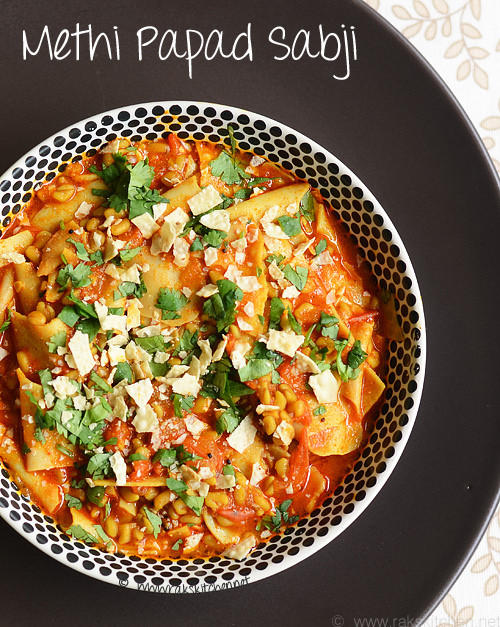 Methi papad ki sabji preparation full video
Methi papad ki sabji recipe
Recipe Cuisine:
Indian
|
Recipe Category:
Sides
Prep Time
:
3 Hrs soaking time
|
Cook time: 20 mins
|
Serves
:
3
Ingredients
Fenugreek seeds / Methi seeds – 2 tbsp
---
Urad dal papad – 2 & ½
---
Tomato – 2
---
Ginger, finely chopped – 1 tbsp
---
Red chilli powder – 1 & ½ tsp
---
Coriander seeds powder – 1 tsp
---
Garam masala powder – ¾ tsp
---
Amchoor powder (optional) – ½ tsp
---
Turmeric – ⅛ tsp
---
Salt – as needed
---
Coriander leaves, finely chopped – 3 tbsp
---
To temper
Oil – 2 tbsp
---
Mustard – ½ tsp
---
Cinnamon – ½ inch piece
---
Asafoetida – ¼ tsp
---
Method
Frist soak methi seeds overnight or 3 hours minimum. Drain water, boil water and add the soaked, drained methi seeds to the water and boil for 3 minutes. Drain the water and you can optionally wash it to remove bitterness completely.

Heat pan with oil, temper with cinnamon, mustard, asafoetida. Add finely chopped ginger and give it a fry.

Add finely chopped tomatoes, turmeric, red chilli, garam masala and coriander powders, required salt. Fry for a minute or two until the tomatoes turn mushy and oozes out oil.

Add the methi and fry for a minute.

Add 2 cups water and boil for 3 minutes. Add torn urad papad to the boiling water.

Simmer for 2 or 3 minutes. As the papad gets cooked, the water will be absorbed. Also as it cools down, water will be absorbed, so switch off accordingly.
Notes
Boiling before, draining and washing is to remove the bitterness. There will be only really a very mild bitterness.
I have tried without boiling, but it will be very bitter.
Garnish with choppped coriander leaves and some finely crushed toasted papad over the subji. Flavourful methi papad ki sabji is ready as accompaniment for rice or roti.