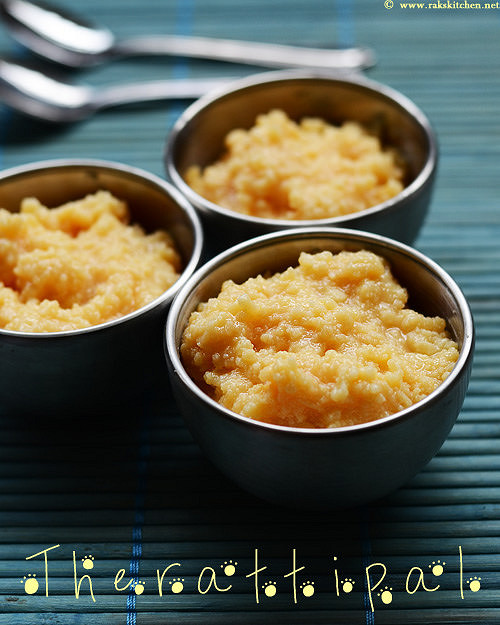 Wishing you all a
Happy Gokulashtami / Janmashtami
. After making s
eepu seedai
and
mundhiri murukku
this year, I also wanted to make something simple and easy sweet so that even beginners can try and offer Baby Krishna. Bachelors, or even kids under elder's supervision can do this within 10 mins. Yes! I think many bloggers have posted this, but I am very late to post this coz, I have made it only 2 or 3 times that too without ghee or curd, I simply microwaved and ended up in chewy milk candy! This year, even I got few requests to post this micorwave therattipal, when I started my Gokulashtami special recipes. This time I referred
this blog
since I got attracted by the title under 5 minutes. And also after these many years of cooking, I realized we need curd and ghee for that grainy texture to get a perfect therattipal using microwave. I am sure this will help many of you even till now you haven't planned or made anything for the festival. Today my Late Grand mom's star birthday as well, so dedicating this post to her.
Microwave therattipal recipe
Recipe Cuisine:
Indian
|
Recipe Category:
Dessert
Prep Time
:
5 mins
|
Cook time: 8 mins
|
Serves
:
4
Ingredients
Milk maid – 1 tin
---
Curd/ plain yogurt – 2 tblsp
---
Ghee – 2 teaspoon
---
Method
In a large microwave glass bowl, place all the ingredients. Mix well.

Micorwave in high for 3 minutes. It will rise, so you need a really large bowl.

Stir again and microwave for another 2 minutes. Stir well. I didn't get the desired consistency, so I stirred well and again microwaved for 2 more minutes, stirring in between once. It should look like this – with the sides dried up and bubbles in the middle as well.

If you slightly mix, there will be grainy texture. Give 4-5 minutes standing time and then stir to get grainy texture.
Notes
Use microwave-able glass bowl, NOT plastic microwave 'safe' bowl.
Since it raises a lot almost double while boiling, you need a large bowl otherwise it will overflow and become mess.
I added 2 teaspoon of ghee only, but 1 tblsp is used in the source recipe. You can replace ghee with butter at room temperature too.
If you want you can add cardamom powder, but I think authentically nothing is added to it.
Quick and easy dessert is ready to offer God as well as to treat your family, with just 3 ingredients and under 10 mins of time.