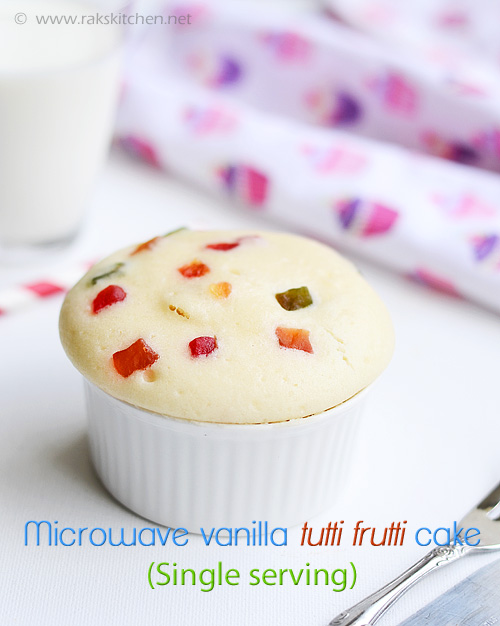 Easy and simple microwave single serving vanilla cake with tutti frutti in one minute. Yes! You heard it right, one minute for single serving!! You can make it as mug cake too. I have been thinking to post this for long time, almost 2 years. I got tutti frutti during Christmas. Used little for maida cake and thought I should make this one.
I have made this few times couple of years back for Aj, since Aj is allergic to cocoa, he will ask for this one when I make chocolate cake. Today also he happily finished this one. You can make this for yourself when you are craving for quick dessert, or make it for your kid hungry back from school.
How to make microwave vanilla cake video
Microwave vanilla cake recipe
Recipe Cuisine:
Continental
|
Recipe Category:
Dessert
Prep Time
:
4 mins
|
Cook time: 1 min
|
Serves
:
1
Ingredients
All purpose flour (Maida) – 3 tbsp
---
Corn flour – 1 tbsp
---
Sugar – 1 tbsp + 2 tsp
---
Baking powder – 1/4 tsp
---
Salt – 1 pinch
---
Milk – 3 tbsp
---
Oil – 1 tbsp + 1 tsp
---
Vanilla – 1/4 tsp
---
Tutti frutti – 1 tbsp
---
Method
Mix all the dry ingredients – all purpose flour, corn flour, sugar, baking powder, salt in a bowl.

In another bowl, mix milk, oil, vanilla. Do not over mix.

Add the mixed wet ingredients to the dry ingredients and make a batter.

Add tutti frutti and fold gently. I added half in the batter and half on the top.

Transfer to a microwave safe bowl/ ramekin/ mug. Microwave in high for a minute.
Notes
Give some standing time for the cake before eating. Otherwise the vanilla flavour will not be blended.
1 minute perfect for my cake, but check the doneness by inserting a toothpick inside the cake.
Always place the bowl in the side of the microwave plate. This enables even cooking.
You can add yellow food colouring if you want.
Easy and super quick microwave single serving vanilla tutti frutti cake! Perfect for evening snack.