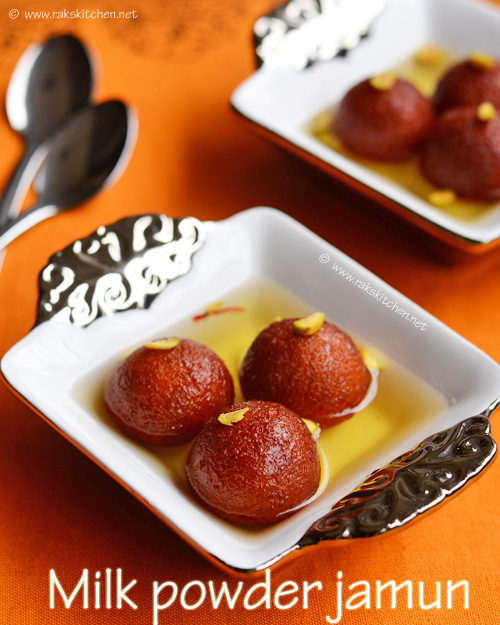 Homemade gulab Jamun from scratch with milk powder as main ingredient. Simple recipe with easily available ingredients.
I have tried milk powder gulab jamun many times, but somehow felt something was missing in the recipe or at times the looks will not be as good as I expect. So kept postponing to blog. Few months back, a reader friend Arockia Mary Anita sent me this recipe from a magazine and asked me to try and post. I tried it with few changes, and it turned out good. I had some Amulya that I had to use soon, so I made this milk powder jamun recipe for this Diwali 2016. Stay tuned for more exciting recipes!
Check out my other gulab jamun recipes
Milk powder gulab jamun recipe
Recipe Cuisine:
Indian
|
Recipe Category:
Sweets
Prep Time
:
10 mins
|
Cook time: 25 mins
|
Makes
:
20
Ingredients
Milk powder – 1 cup
---
Ghee – 1 tbsp
---
Cooking soda – 1/8 tsp
---
All purpose flour (Maida) – 2 tbsp
---
Curd (plain yogurt) – 2 tbsp
---
Salt – 2 pinches
---
Sugar – 1 & 1/2 cup
---
Saffron – A pinch
---
Cardamom – 1
---
Oil/ ghee/ vanaspati – to deep fry
---
Method
First make sugar syrup with 1 cup water. Bring to boil and let it boil in medium flame for 4-5 minutes, or until the syrup is not watery. Add saffron and cardamom powder while boiling.

In a mixing bowl, add milk powder, 2 levelled spoon of maida, cooking soda, salt, ghee and mix well. Add curd and required water, make a dough without any cracks. Make it gently, without kneading much. Keep aside for 5 mins.

Mix again gently and make equal sized balls out of it. I made 20. Everything should be done gently, don't be hard while rolling. Rolled balls should not have any cracks. So add water accordingly. You might need to grease your hands with ghee for rolling each jamun.

Heat oil and put the flame to low ( oil should never smoke at any point). Add 6-7 jamuns per batch and keep turning for even cooking/ browning. Drain in paper towel and immediately add to the hot sugar syrup. Repeat to finish.
Notes
Do not add more maida as it will make the jamun hard. Cooking soda must be added just right, do not add more.
Jamun and syrup should both be hot.
Give good soaking time for these jamuns.
When you drop the jamun, it should not get browned immediately. If it does, then your oil is too hot to fry. It will not get cooked from inside. So make sure to regulate the heat. It should get fried very slowly in low flame.
If oil is not hot enough also its not good, so bring the oil hot and put the flame low one hot.
The curd and soda makes the jamun soft and big, so do not skip anything.
After 3-4 good hours, the jamuns are ready to enjoy!