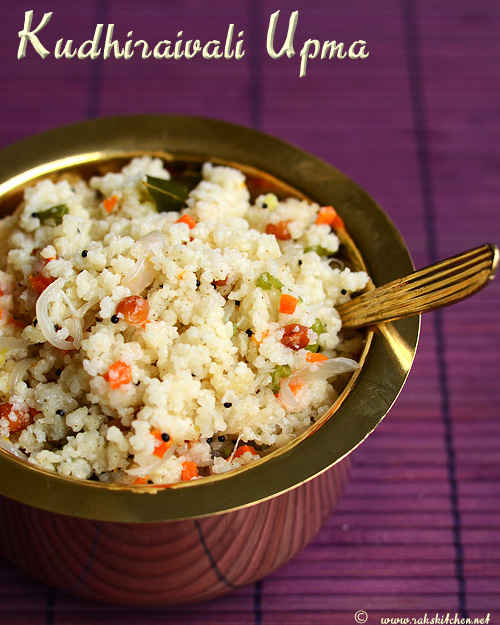 Barnyard millet upma recipe (Kuthiraivali in Tamil / Jhangora in Hindi / Odalu in Telugu / Oodalu in Kannada) was the first millet recipe I tried in my kitchen. But posted thinai paniyaram first. This upma is very easy and basic to cook, can start with this if you are new to millets. Need not worry that cooking millet is complicated. Its really easy and not tricky at all. This tastes similar to arisi upma. You can make it same way as no onion and without vegetables too. But I added veggies. Even bachelors can try this. This is a healthier option for rice upma coz of its nutritional values – improve metabolism of our body. Good for diabetics too. It is rich in calcium, phosphorus, iron and rich in fibre content. When cooked, it gives a lot of volume. Keeps you feel full for long time too.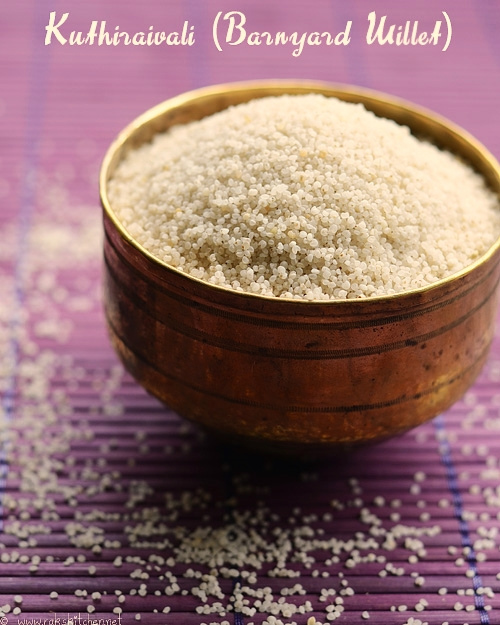 Kuthiraivali (Barnyard millet) upma recipe
Recipe Cuisine:
Indian
|
Recipe Category:
Breakfast
Prep Time
:
5 mins
|
Cook time: 20 mins
|
Serves
:
2
Barnyard millet – ½ cup
---
Water – 1 & ½ cups
---
Onion (skip on fasting days) – 1
---
carrot, finely chopped – 2 tblsp
---
Beans, finely chopped – 4
---
Ginger, very finely chopped – 1 tsp
---
Green chilli – 2
---
Salt – As needed
---
To temper
Coconut oil/ or any cooking oil – 1 tblsp
---
Mustard – ¾ tsp
---
Urad dal – 1 tsp
---
Channa dal – 1 tblsp
---
Curry leaves – 1 sprig
---
Method:
Wash the millet once or twice and drain water completely.

Heat a kadai with oil, temper with the items given under 'To temper' table in order. Followed by onion, green chilli and ginger. Fry till onion turns transparent. Add veggies and fry for 2 minutes in low flame.

Add water and salt. Bring to boil and add the millet. Mix well.

Cook covered in low flame for 8 to 10 minutes or until all water dries up.
Notes
Can be garnished with grated coconut.
Coconut oil and ginger adds nice flavor.
If making without onion and veggies, add asafoetida while tempering and add pepper powder for flavor.
Serve hot with any spicy coconut chutney or even sugar. I had with peanut chutney.