As I have said before, I am not big fan of soups, but I dont hate it. Minestrone soup recipe is always the one I wanted to try for long time, I have seen this in the menu of Pasta mania, but was not comfortable having it there as I was worried if its pure vegetarian or not. Otherwise, I love pasta, and sure it would be nice to have pasta in soups. We can add it to our usual tomato soup as well. It will be nice, but when I saw this authentic minestrone soup recipe in an Italian cook book, I really wanted to try that way. So tried it according to the ingredients availability and my taste. Minestrone soup is supposed to be made with lots of vegetables along with pasta or rice. And its supposed to be an one pot meal that fills your tummy.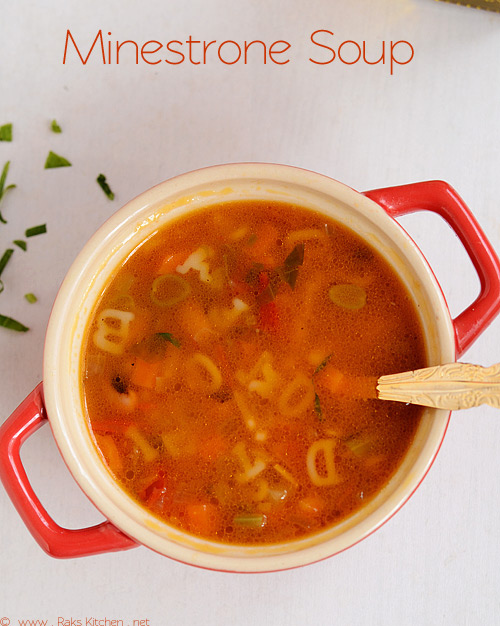 Minestrone soup recipe
Recipe Cuisine:
Continental
|
Recipe Category:
Dinner
Prep Time
:
10 mins
|
Cook time: 30 mins
|
Serves
:
3
Ingredients
Carrot – 1
---
Potato – 1
---
Beans – 6
---
Celery – 2 stalks
---
Onion – 1
---
Tomato – 2
---
Black eyed peas – ¼ cup
---
Pasta – ⅛ cup
---
Garlic – 2
---
Vegetable stock – 3 cups
---
Salt – As needed
---
Water – As needed
---
Olive oil – 2 tblsp
---
Butter – 2 tblsp
---
Parmesan grated – 2 tblsp
---
Method
Finely chop garlic, onion and chop other veggies to small cubes. If you are using tinned bean, then drain and use in the recipe. If using dried bean, soak overnight, cook until soft. I pressure cooked for 3 whistles with a pinch of salt. In a large sauce pan (I used my cooker), heat butter and oil together.

Add garlic, onion frying each for a minute in medium flame. Add all the vegetables one by one and frying each for a minute, without changing the colour. Add celery and lastly the bean.

Add cooked bean and mix well. Add vegetable stock, bring to boil and simmer the flame to cook the vegetables.

Once the veggies are cooked (just right, do not over cook) add salt and pasta. Cook until pasta is done and top with water (add water) every now and then if needed or to get desired consistency of the soup. Season generously with pepper.
Notes
Use tiny pasta varieties like Alphabet, Rosoni, Orzo etc. if not you can use macaroni.
I used black eyed beans, you can use white or red kidney beans, chickpeas, double beans as per availability.
My carrot, potato, tomato were small in size, so use accordingly.
The consistency of the soup is purely your choice, so add water while making the soup accordingly.
Do not add pasta more than mentioned, otherwise soup may thicken too much.
Instead of pasta, you can use rice also. Also any shape of pasta can be used, I used alphabet pasta. So I have mentioned as 3 tblsp. If bigger shaped pasta, use more.
Don't forget Parmesan cheese.
Serve at room temperature with olive oil and Parmesan for seasoning. Can be served chilled as well. Wholesome!