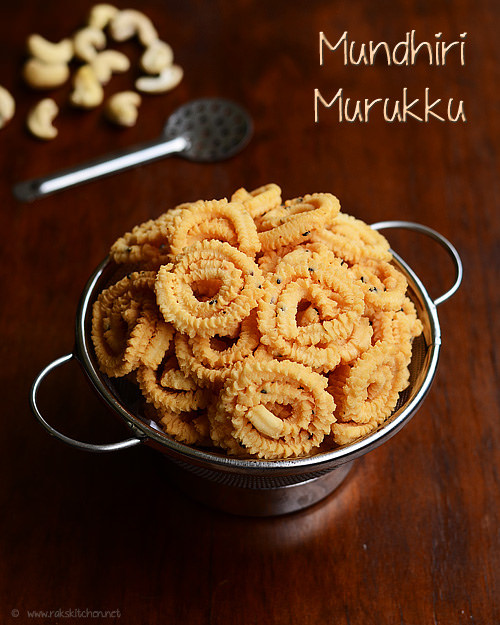 I had this recipe from last year Diwali itself. My MIL told this recipe after seeing it in a cookery show. But could not post it. But this is the perfect time for posting these cute tiny murukkus for Janmashtami 2014. Kutti kutti murukku for kutti Krishnar. I have seen this Chinna chinna murukku in Sri krishna sweets. So this one is inspired from it. My MIL told to try as chinna chinna kai murukku, but I made it in murukku press itself. Kids would love this too as they are looking cute. I had fun making this murukku. Do try it for your family. It is easy, comes out light and crispy, golden in colour too, with simple ingredients at home!
Mundhiri murukku recipe
Recipe Cuisine:
Indian
|
Recipe Category:
Snack
Prep Time
:
15 mins
|
Cook time: 25 mins
|
Makes
:
30 mini murukkus
Ingredients
Rice flour / idiyappam flour – 1 cup
---
Cashew nuts – 15
---
Asafoetida / hing/ Perungayam – 1 generous pinch
---
Sesame seeds – 1 & 1/2 tsp
---
Salt – As needed
---
Ghee/ melted butter – 1 tsp (optional)
---
Oil – For deep frying
---
Method
Grind cashew nuts with little water, smoothly. There shouldn't be any cashew bits seen.

Place the rice flour, salt, asafoetida, sesame seeds, ghee in a mixing bowl. Add the ground cashew to it. Add enough water little by little and make a smooth dough without any cracks. Should not be sticky either.

Take a single holed star or this colver shaped plate in the murukku press. Fill the press with dough.

Press into small coils/ circles as shown in the picture. You can press in greased ladles (you may need a lot) or greased back of a plate, or even greased small flat plates. Heat oil in a kadai and when hot, drop these tiny murukkus carefully into oil. You can slide each one slowly along the sides of the kadai.

Cook in medium flame. Turn the murukku in between and cook until bubble ceases and shh… sound stops.Drain in paper towels and repeat to finish the dough.
Notes
My MIL even tried adding few badams reducing the cashews. 10 cashews and 5 soaked and peeled badam. It comes out good.
You can do the same with any plate in the press – star or the regular thenkuzhal press.
Store in air tight containers after it completely cools down. Enjoy!