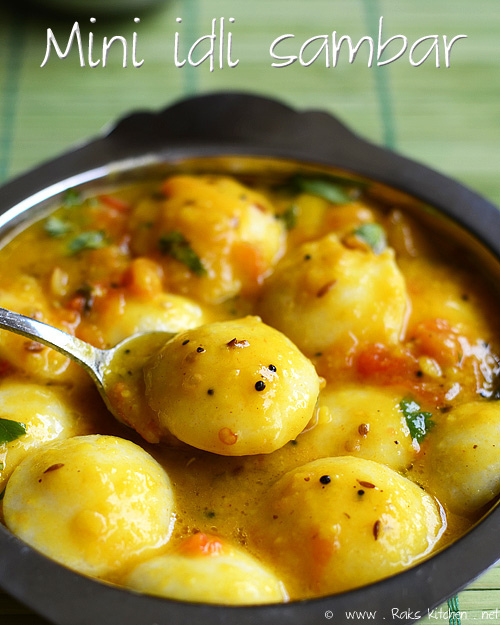 Mini idli sambar – Learn tips and tricks to get a drinkable, mild flavorful sambar for mini idlies! I know I could not post any new recipes at all last week, I think most of you know my in-laws were here and I spent most of my free time together with the family and gave a break myself from blogging and enjoyed family time to the fullest 🙂. I won't say I was very busy with works, as everyone shared the works. So I had free time, but we spent those time playing card games, board games along with Aj☺. Yesterday they left SG and we 3 are again left here with our routines. Aj went to school and Vj went to office and I am back to blogging. Though I felt sad, I am so much worried about Aj how he is going to take this. He was all tears when we came back to home and he could not forget the fun time he had all these days. I had tough time consoling him, actually, I don't know how to😐. Somehow today he went school and hopefully that could deviate him and only when he comes back, it wont be the same. Will take some time for him sure.
And I know most of you will be busy with the pongal cleaning works and planning for pongal. Though I don't have any special recipe for pongal this time, I thought to break my silence with this simple post. Please go through the recipe for learning tips and tricks for getting delicious
sambar
that can be perfect for mini idlis.
WISHING YOU ALL A HAPPY PONGAL & MAKAR SANKRANTI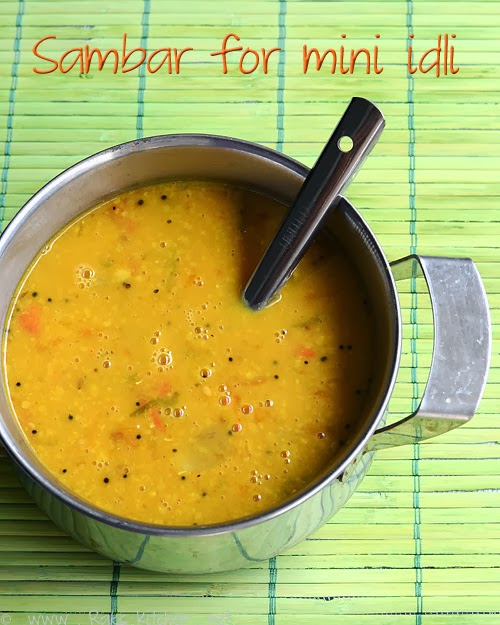 Mini Idli Sambar recipe
Recipe Cuisine:
Indian
|
Recipe Category:
Breakfast
Prep Time
:
15 mins
|
Cook time: 20 mins
|
Serves
:
4
Ingredients
Toor dal – 1/2 cup
---
Tamarind extract – 2 tblsp, thick
---
Tomato – 2
---
Green chillies – 3
---
Sambar powder – 1 tsp
---
Turmeric – 1/4 tsp
---
Coriander leaves, chopped – 2 tbsp
---
Small onion – 15
---
Red chilli – 1
---
Ghee – 1 tbsp
---
To temper
Ghee – 2 tsp
---
Mustard – 1 tsp
---
Cumin seeds/ jeera – 1 tsp
---
Curry leaves – 1 sprig
---
Asafoetida / Hing – 1/4 tsp
---
Method
Soak tamarind and pressure cook dal for 4-5 whistles with enough water, turmeric, a pinch of asafoetida and a red chilli. Extract tamarind juice from the soaked tamarind.
Mash the dal well once done. Heat kadai, temper with the items given under 'To temper' table in order. Add peeled small onions, slit green chillies and fry for a minute.

Add chopped tomatoes and a pinch of salt and fry until tomatoes turn soft.

Add enough water with tamarind juice and bring to boil. Add turmeric, sambar powder and required salt. Bring to boil and add chopped coriander leaves. Boil for 3 minutes.

Add cooked dal and mix well. You can add a pinch of jaggery if you want at this stage. Bring to boil and boil for 2 minutes in medium flame. Top with ghee.
s
Tips for making mini idlies:
Refer this post for making idli batter. Grind the rice a little coarse. This will make the idli textured perfect to absorb the sambar.
Either sambar or the idlies should be hot for perfect absorbing.
Do not soak for long time and keep as it will become soggy and mushy. Just do it 5 or 10 mins before.
Notes
The sambar should be more with tomatoes and less tamarind.
Add salt carefully so that the sambar is drinkable.
Ghee is perfect for tempering this sambar and topping too.
Coriander leaves, ghee adds a lot of flavour to this sambar. So do not miss it.
Enjoy hot for evening snack or as dinner. We love it for a dinner when ever we want something special for dinner, when we have only idli batter.