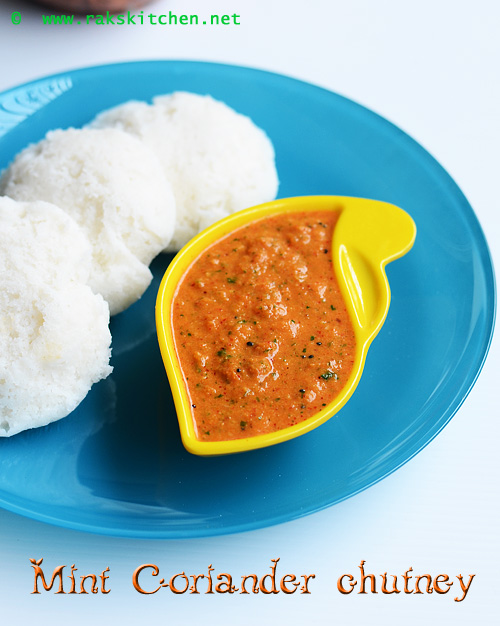 Mint coriander chutney for dosa, idli. spicy and flavourful chutney for idli dosa, made with onion, tomato, garlic, mint, coriander, red chillies and coconut as main ingredients – Kothamalli pudina chutney. I always look for different chutney recipes, be is a small variation, I would like to try it out. As idli is out major breakfast, I want to make something different from the usual chutneys I make. Aj is quite simple – He always wants
sambar
or
onion tomato chutney
if its idli and he can adjust with
red chutney
if it's dosa.
So when I asked my MIL who is here, for a chutney recipe, she told this. I made it for today breakfast and the recipe was bang on. Perfect tasting chutney with a well balanced flavour.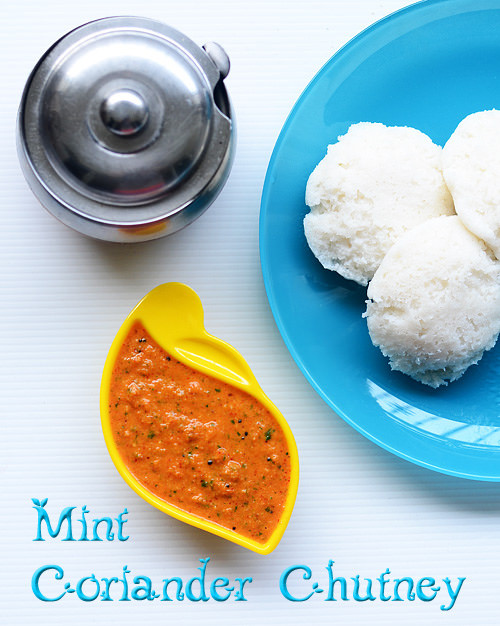 Mint coriander chutney recipe
Recipe Cuisine:
Indian
|
Recipe Category:
Breakfast
Prep Time
:
10 Mins
|
Cook time: 10 mins
|
Serves
:
4
Ingredients
Onion – 1, large
---
Tomato – 1
---
Garlic – 4 flakes
---
Mint and coriander leaves – ¼ cup
---
Channa dal – 1 tbsp
---
Red chilli – 8
---
Asafoetida – ⅛ tsp
---
Coconut, grated – 2 tbsp
---
Jaggery – ¼ tsp
---
Oil – 2 tsp
---
Salt – As needed
---
To temper
Oil – 2 tsp
---
Mustard -½ tsp
---
Urad dal – 2 tsp
---
Method
In a kadai, add 2 tsp of oil and roast red chilli, channa dal until channa dal turns golden. Add asafoetida lastly and roast. Transfer to a plate. (I temper in this same kadai and pour it in a bowl). Add garlic and cubed onion first then cubed tomato.

Fry until soft and add washed mint and coriander leaves. Fry just until the leaves shrink. Transfer to a plate and cool down.

In a mixer, powder salt, jaggery, roasted red chilli, asafoetida, coconut and channa dal.

Then add the sauteed onion, tomato, garlic and mint coriander leaves. Grind coarsely.

Temper with mustard, urad dal and mix to the ground chutney.
Notes
I do tempering in step one to save time, you can also follow the same.
You can add small onion (shallots) in place of large onion.
You can add a pinch of tamarind if you feel your tomato is not tangy.
Adjust water and salt to balance the spice.
Serve with hot idli or dosai, a spicy and flavourful chutney that your family would love!