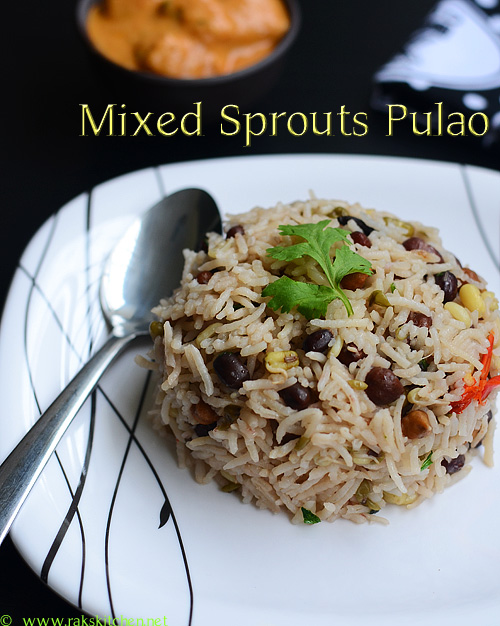 For this mixed sprouts pulao, you will need mixed sprouts. You can easily prepare mixed sprouts by soaking legumes like chickpeas (chana), green gram, red gram, horse gram, black eyed peas etc overnight. Moring wash again and drain water. Keep sprinkling water two or three times a day and mix. In 24 hours, it will start sprouting. You can repeat this until you want desired length sprouts for 2 or maximum 3 days. You can buy this mixed sprouts in stores too. But if you are concerned about hygiene, then better you sprout at home. The pulao is simple recipe just like other pulaos, but this idea was told to me by my co sis after seeing a cookery show. I adjusted the recipe as per my taste. Very easy when sprouts is ready and you can pack this for lunch box, a healthy and hearty meal. You can pair it up with any rich gravy or simply raita.
And my interview has been published in Sulekha, Do check out when you find time!
Mixed sprouts pulao recipe
Recipe Cuisine:
Indian
|
Recipe Category:
Lunch
Prep Time
:
10 Mins
|
Cook time: 25 mins
|
Serves
:
3
Ingredients
Mixed sprouts – 1 & ½ cups
---
Basmati rice – 1 cup
---
Onion – 1
---
Green chilli – 1
---
Coriander leaves, chopped – 2 tbsp
---
Mint leaves – chopped – 2 tbsp
---
Salt – as needed
---
Ghee – 1 tsp (Optional)
---
To temper
Oil – 2 tbsp
---
Cinnamon – 1
---
Cardamom – 1
---
Clove – 1
---
Bay leaf – 1
---
Red chilli – 1
---
Method
In a small pressure cooker, heat oil and temper with the items given under to temper table.

Add sliced onion, slit green chilli and fry until onion turns transparent.

Add sprouts and fry for a minute.

Add rice, drained completely from water, fry for a minute.

Add 1 & ¾ to 2 cups water, required salt and bring to boil. You can either continue boiling for 2 minutes and close the pressure cooker, cook in lowest flame for 14 minutes. Or once boils, close and pressure cook for 2 to 3 whistles in medium flame. Garnish with coriander, mint leaves once done.
Notes
You an decrease or increase the sprouts you use in the recipe. Adjust water accordingly.
Since the beans are sprouted, it gets cooked very easily. So don't worry if it will get cooked or not.
Serve hot with any rich gravy. We had with paneer butter masala or you can serve with onion raita too.