Mor kali is one of my childhood favorite that mom makes. More than me my bro is great fan of this. We call it mor koozh, and we eat it as such without pouring in a plate. Just in a koozh(which means a non sticky thick porridge kind) form so we call it koozh. Mom makes puli koozh too, which I will post sometime. I was thinking of what to do with the varagu remaining that I got from Bhairavi naturals and thought of trying this kali with it. You can replace this millet with regular eating rice, preferably raw rice (Sona masoori for example). But I am happy to use
varagu
as its a healthy replacement for rice.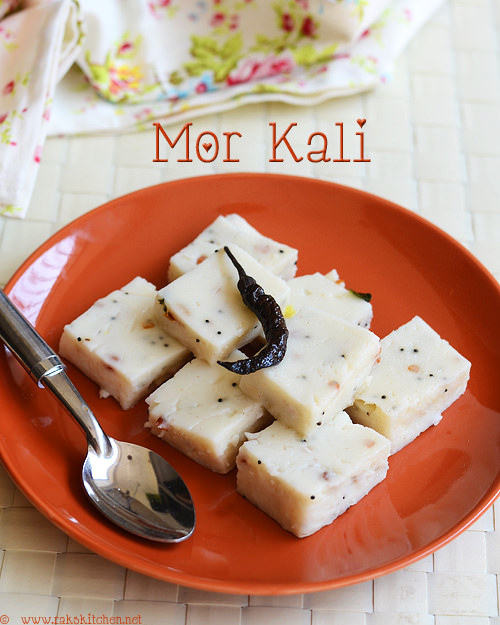 Mor kali recipe
Recipe Cuisine:
Indian
|
Recipe Category:
Breakfast
Prep Time
:
2 hr soaking time
|
Cook time: 20 mins
|
serves
:
3
Ingredients
Rice (I used varagu arisi here) – 1/2 cup
---
Sour curd – 1/2 cup
---
Water – 2 cups
---
Salt – As needed
---
Coconut oil – 1 tsp
To temper
Coconut oil/ any cooking oil – 2 tblsp
---
Mustard – 3/4 tsp
---
Urad dal – 1 tblsp
---
Channa dal – 1 tblsp
---
Chilli (green or red or mor milagai) – 3
---
Asafoetida/ Hing/ Perungayam – A generous pinch
---
Curry leaves – 1 sprig
Method
Wash and soak rice for 2 hrs. Drain water and grind it to a smooth batter and add water if needed for grinding.

Mix salt, a small pinch of asafoetida and well beaten curd along with water. Heat a kadai with oil and temper with the items given under 'To temper' table.

Pour the mixture and keep stirring. At beginning it will start getting thick in the sides and bottom, so keep stirring well. It will look as if it forms small lumps, but no need to worry, keep stirring. Put flame to medium.

Once it doesnt stick to the sides and forms a smooth whole lump, cook covered in low or medium flame for 8 minutes. Stir in between.

Grease a plate with oil and spread the koozh in that plate, once cooled, you will be able to cut into pieces.
Notes
If the kali is cooked properly, once it cools down, you will be able to cut it without any stickiness.
For me, I used mor milagai, but I recommend using green chilli best or red chilli for more flavor.
Coconut oil is best for giving extra flavor.
After you spread in plate, drizzle some oil over to avoid a dry top while cooling down.
I like it to have it as hot koozh than these cooled down- cut pieces, but it does looks pleasant and easy for serving too, so its up to your family's preference😀.