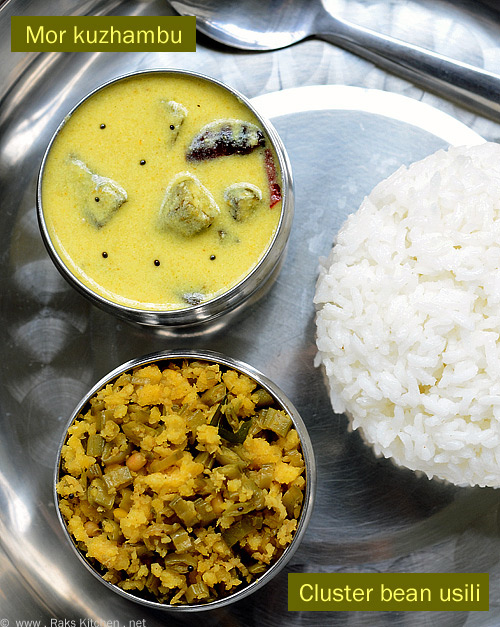 I am planning to post some Lunch menu ideas weekly, so that it will be easy and helpful for many to pre-plan their lunch in weekends/ weekdays. I also want to let know, this may not have any fancy combinations or elaborate lunch, instead, simple, yet will try my best to match the best combinations. If any of the recipes in the menu is not in my blog and if you want that specific recipe, you can leave a message requesting that recipe and I will try posting the recipe soon.
Recipe links :
More kuzhambu recipe.
Cluster beans paruppu usili,
To start with, here is the classic combo more kuzhambu and paruppu usili. We always try the best to include some dal everyday in our meals and since the kuzhambu is yogurt based, the paruppusili has lentils and complete the meal.


So here is the More kuzhambu recipe. I have made it with ladies finger/ Okra/ vendakkai. To add ladies finger in mor kuzhambu, we usually fry it in 2 tblsp sesame oil until black spot appears and the stickiness also goes away. Then boil it until done with salt. Then add it to the mor kuzhambu.
Vegetables that can be added to More kuzhambu :
Other veggies that can be added in mor kuzhambu are – chow chow/ chayote, white pumpkin, brinjal, arbi/ seppankizhangu and even we make small bondas and add to the mor kuzhambu. Even paruppu urundais can be added to this kuzhambu. All the veggies should be cooked before with little water and salt before adding to the kuzhambu. Share the vegetable you add instead of the above.
Cluster beans paruppu usili, this time I made it by finely chopping, instead the way I have posted earlier.
Vegetables that can be perfect for paruppu usili :
Beans, long beans, cabbage/carrot, broad beans,capsicum, spring onion/onion and vazhaipoo (banana flower).