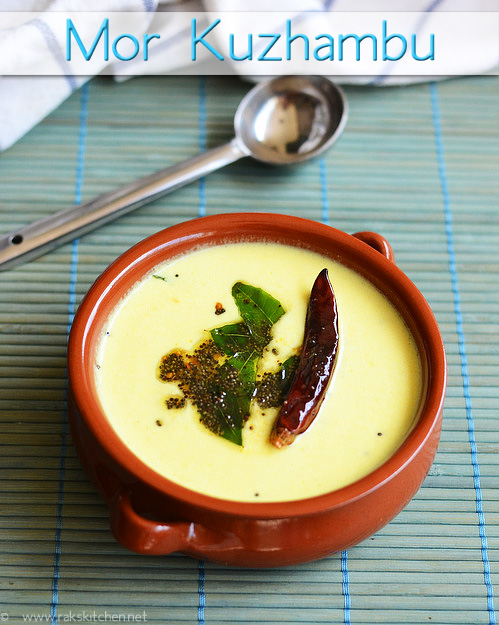 Mor kuzhambu / mor kulambu recipe with Buttermilk (Mor), toor dal, coconut, ginger and green chilli as main ingredients. I already have a mor kuzhambu recipe which does not need any soaking part. It will help you when you want to decide and make instantly. But then, that was a combination of few recipes. I have never ever made mor kuzhambu without cumin seeds (Jeera) and coriander seeds. Atleast I make sure to add jeera which I consider the main flavour in the mor kuzhambu next to ginger. But when my co-sis was staying here last year, she told that her mom makes a version of mor kuzhambu and will get the recipe for me. She shared the recipe last month and I tried it. It is with simple ingredients, yet flavourful.
I still have another version of mor kuzhambu that my mom and MIL makes that I love, I will post it sooner or later.
Related recipes you may like
Mor kuzhambu recipe
Recipe Cuisine:
Indian
|
Recipe Category:
Lunch
Prep Time
:
2 hr soaking time
|
Cook time: 15 mins
|
Serves
:
4
Ingredients
Butter milk – 1 & ½ cups
---
Turmeric – ¼ tsp
---
Salt – as needed
---
Vegetable – refer notes
---
To grind
Toor dal, Soak for 2 hrs – 1 tbsp
---
Rice, Soak for 2 hrs – 1 tbsp
---
Green chilli – 3
---
Ginger – ½ inch piece
---
Coconut – ¼ cup
---
To temper
Oil – 2 tsp
---
Mustard – ½ tsp
---
Asafoetida – A pinch
---
Red chilli – 1
---
Curry leaves – 1 sprig
---
Method
Bring curd to room temperature and beat it smoothly using a whisk. If not beaten smoothly, chances are there to break while heating up. So make sure to beat smooth.

Soak toor dal and raw rice (I forgot to add) in water 2 hrs prior. In a kadai, add few drops of oil and fry broken chilli and ginger.

Grind soaked toor dal, ginger, green chilli and coconut with little water to a smooth paste.

Mix it to the beaten curd, add turmeric, salt as need.

Mix well. Put it over stove and add your choice of cooked vegetable. I added seppankizhangu (arbi) here.

Heat the kuzhambu until it raises and becomes frothy, no need to boil it.

Temper with the items given under 'To temper' table and top the butter milk.
Notes
Vegetable can be ladies finger, white pumpkin, chow chow, arbi (seppankizhangu), brinjal etc. Ladies finger should be sauteed in oil. Boil the veggies separately with salt until done and add it to the kuzhambu.
You can add urad dal vada (medhu vada) or even paruppu urundai in mor kuzhambu.
Mor kuzhambu can be stirred but cannot be poured while stirring using the ladle. That's what my elders say as it may give you watery kuzhambu. Also they say, do not boil it covered with lid.
Serve with paruppu usili or potato curry the best combo for mor kuzhambu. I can have it as such with rice.