Mothagam – vella kozhukattai is a must for Vinayagar chaturthi. We make usually mothagam with channa dal plus coconut pooranam.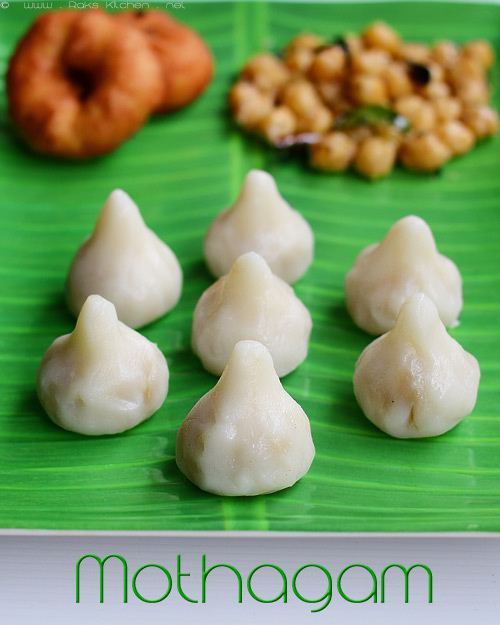 This time, I wanted to post kozhukattai recipe with thenga pooranam. So tried it, asking recipe from my friend Sangeeta's MIL.
It was super yummy!. I had always a thought that thenga pooranam may be too too sweet, and never tried. Only tasted twice at Jeyashris house.
But when I tried this, I really loved this, it's so easy too unlike the chana dal pooranam we usually make. Vj too loved it so much! Now my usual story about the festival, please feel free to skip it
As a kid I have always enjoyed pillayar sadhurthi. Dad and bro are talented enough to make clay idol of vinayagar at home itself.
We take mud from our own backyard for this. And when it comes to decoration, that is painting it colourful, I used to help. I loved that part. 
When the day of celebration comes, we keep two black beads ready and after the abishekam gets over, we insert that in the eye part, after which only vinayagar is officially born.
And not to forget the time when mom sends to gather arugampul - a type of grass- for making a garland for vinayagar.
Every day I gather it carefully (only three strands should be there in a sprig) freshly from the fields opposite to our house.
Also we go a little far to gather the 'erukkam poo' to make malai, that stays good for few days. I use needle and thread and make that cute garland.
We get only the purple variety near our area. But paati says white flower variety is more special for the festival.
I used to sit and watch eagerly what are all the things dad used for abishekam – lemon juice, honey, milk, curd, mashed banana, pure sandal (sandanam), turmeric etc and water in between each item...
And not to miss the cute little mouse (moonjoor) also gets all these abishekams. My paati used to assist the whole thing.
I feel now Aj misses all those things! In our in-laws house we celebrate the same way, but in a brief manner.
And we make kozhukattais all of us sitting together – mom, dad, bro, paati and me.
Afternoon, just for padayal we make 11 kozhukattai in each and finish the padayal and in the evening we start to make lots for dinner. And we enjoy hot, soft and delicious - it goes in without any counts.
And not only the pillayar chadhurthi day, as long as the pillayar is kept at home before its dissolved. Every evening mom makes something to offer the idol.
Sundal and appam will be mostly made. Since there will not be any rivers or ponds nearby, we dissolve the idol in a big tub of water kept in our garden and after it gets dissolved super fast.
(yes super fast as its homemade) we pour the water to the flowering plants that we have in our garden. Sweet memories!
Check the other Ganesh Chaturthi recipes
Refer How to shape a mothakam in the below video :
To read the mothagam recipe in Tamil, click here
Mothagam recipe
Recipe Cuisine: Indian | Recipe Category: Snack
Prep Time: 25 mins | Cook time: 20 mins | Makes: 12
Ingredients
Rice flour (Ready made idiyappam flour) - ½ cup
Sesame oil - 1 tsp
Water - As needed
Salt - As needed
For coconut pooranam
Coconut - 1 cup
Jaggery - 1 cup minus 3 tbsp
Cardamom - 2
Method
For the dough, bring water to boil with a teaspoon of sesame oil and let it boil for a minute. Add it to the flour with salt and mix well. Use a spatula for mixing. You may need lots of water. So make sure you boil enough.
2. After it becomes warm, knead to a smooth dough and keep covered. You can make equal sized balls and keep covered.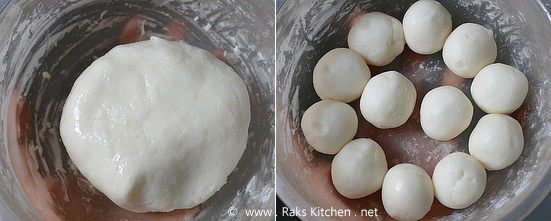 3. For the thenga pooranam, place grated coconut jaggery and elachi powder in a pan, with 2 tablespoon of water. Mix in medium flame for 5 minutes, when it starts leaving the sides of pan, switch off the flame.
4. Make small cups out of the dough, refer the video above for learning how to shape the cup. Fill with the coconut pooranam.

5. Repeat and finish the kozhukattais and keep covered until steaming. Boil water in steamer and arrange the modaks in the steaming plate and cook for 5 minutes. Or until they are cooked.

Notes
You can reduce jaggery quantity as needed to suit your taste. I used little less jaggery than mentioned as I don't like it too sweet.
To get the outer layer soft, its important to boil water well for making the dough. Dough should be almost cooked with the hot water so that you get non sticky pliable dough.
If the dough is not cooked well, you may not be able to make the cups properly and will break while making.
To check if the kozhukattais are done, it will be shiny and changed in colour.
Do not over cook , it may give you rubbery and broken kozhukattai.
If you mix the stuffing in high flame or for more time than needed, then it may turn hard or brittle.
Its so soft and delicious, that you can pop one kozhukattai per mouth and enjoy!