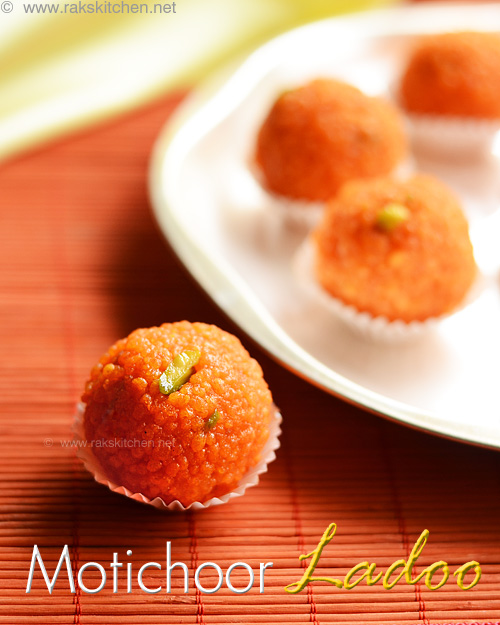 Motichoor ladoo is an Indian sweet, different from boondi ladoo, because this is with tiny boondi and slightly different method of preparation and ingredients. In this post, you can learn how to make these tiny boondi with step by step pictures and video.
I always wondered how they manage to get so much tiny boondis. I have searched a lot in blogs, websites but, found nothing which explains the trick of getting
tiny
boondi. I have seen another method in which they grind the regular boondi and make motichoor ladoo. I have been postponing to try this recipe as I did not want to try that way. I know there should be some technique to make tiny boondi. Once when I was making plain salt boondi for boondi raita, the batter became watery and I got really tiny boondis. But it was more like a mess, half of it were like sev.
I wanted to make video for my boondi ladoo post this year and also I am a big fan of boondi and ladoo, but never get to eat. I know only if I can make myself I can eat it. So, when I went to chennai this year, I asked my MIL to buy and keep the boondi ladle. She too was sweet and thoughtful, bought and kept for me. Without this ladle I don't think this recipe is possible. I remember my mom had two or three varieties of this boondi ladle which we call as Jalli karandi. One made of brass and other two made of iron. one of them is used to drain the boondis from oil. Other one to make boondi. When she used to make boondi or ladoo, my grandma will help or vise versa. I too have helped her when I have grown up. As she makes large quantity, another helping hand is a must to finish it fast.
Coming to today's recipe, luckily saw few
videos
in which they show the technique, but was in doubt if it will turn out good, will it be possible for me and so on. It looked bit complicated, but somehow I was determined to try. I had plan to grind and do if it doesn't turn out tiny, but wow, I pulled it off!🤗 I know many of you have been wanting to know how they make motichoor ladoo with tiny boondi, just like me. Finally the search has come to an end here! 😁 Impress everyone with this ladoo for this Diwali. No one will first believe that you made it, but make them believe, take a bow!
Learn how to make motichoor ladoo video
Motichoor ladoo recipe
Recipe Cuisine:
Indian
|
Recipe Category:
Sweets
Prep Time
:
30 mins
|
Cook time: 25 mins
|
Makes
:
12
Ingredients
Besan, coarse – 1 cup
---
Orange food colour – 1/4 tsp
---
Milk – 3 tbsp
---
Salt – a pinch
---
Oil/ ghee – to deep fry
---
Pistachios – 12
---
Sugar – 3/4 cup
---
Water – 1 cup
---
Cardamom – 1, powdered
---
Rose essence – 3 drops
---
Lemon juice – 1/2 tsp
---
Method
Take besan (kadalai mavu/ chickpea flour) in a mixing bowl, add salt and whisk well or you can sieve too. Add milk, food colour and required water to make a thick batter. Refer video for consistency.

Heat a broad kadai with enough oil. Keep a heavy, taller (than the kadai using) box/ dabba near the kadai, without touching the flame or the kadai. Place a kitchen cloth or towel, folded over the container. This is for tapping the ladle over the oil.

Once the oil is hot, put flame to low or medium and hold the boondi ladle in slanting way, above the oil, so that the handle rests over the dabba. Pour batter all over the ladle rather than at one place. Quickly start tapping the handle of the ladle over the dabba, so that the batter gets sprinkled in the oil.

Once the bubbles reduces and you could see boondis, remove it from oil using a wire mesh ladle. Never let it for more time, otherwise it will get crispy and brown. Drain in paper towel. Repeat to finish.

To make sugar syrup, boil sugar and water until one string consistency. That is, if you swipe the back of the ladle with your fore finger and check between your thumb, a string should form.

Switch off the flame, add lemon juice, cardamom and rose essence.

Add the prepared boondi, mix well and keep it closed for minimum 20 mins or until all the syrup is absorbed by the boondi.

Chop finely and fry the pistachios in ghee. Add to the soaked boondi, mix.

Grease you hand with ghee. Take palm full of the boondi and make ladoos. Repeat to finsish and arrange in serving plate.
Notes
If you are not able to make tiny boondi, don't worry, make regular ones, run in mixer after step 7. Make laddos. Looks equally good and tastes the same.
This boondi takes in a lot of oil, so make sure to drain each batch over paper towel.
And you can use oil or better ghee or ghee + vanaspati to deep fry the boondi as the boondi flavour mostly comes from that.
Restrict yourself with only one per day/ time. It is really heavy.
I don't have wire mesh ladle, so used my metal strainer.
While tapping, be careful not to tap on the kadai.
If possible, get help from another hand, while making the boondi.
I arranged in muffin liners. But can keep as such too! Store in airtight containers. Aren't they gorgeous and pretty? 🙂