Murungai keerai / drumstick leaves poriyal makes its appearance very rarely in my kitchen. That's coz I rarely buy drumstick leaves. I become lazy when it comes to separate the leaves from the stalk. But recently I am buying very often to consume it for its health benefits. My mom makes very often. Most of the time she makes kootu. And every time she makes kootu, being a picky eater, I used to refuse eating it. She says a song for it. It starts like this "
murunga keerai kootu, moonu dhadam potu…."
sorry only that much I remember now🤔. And makes me eat once. When I was asking Vj how he likes it, he said he likes it as poriyal. At my mom's house, we call it as Murunga keerai thuvattal. So these days I started to buy this keerai often, to make poriyal with it for Vj, but always end up adding in adai. This time too, added a part of it first in adai and made murungai keerai adai and the rest I made it as poriyal. So thought of posting it too.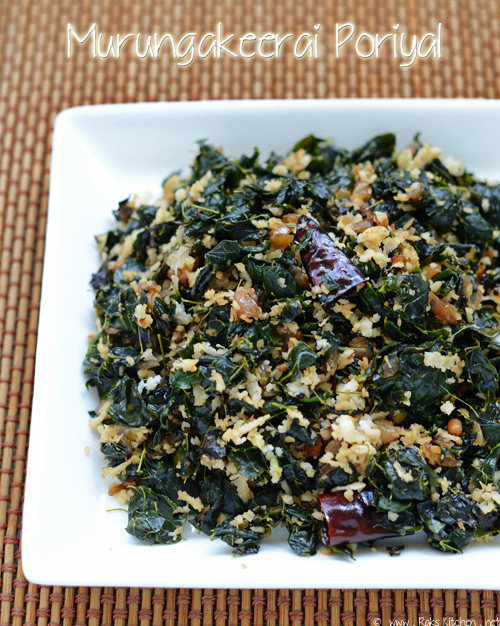 Murungai keerai poriyal recipe
Recipe Cuisine:
Indian
|
Recipe Category:
Lunch
Prep Time
:
20 mins
|
Cook time: 10 mins
|
Serves
:
3
Ingredients
Drumstick leaves – 2 cups tightly packed
---
Onion – 1
---
Sugar – ¼ tsp
---
Coconut, grated – ¼ cup
---
Salt – As needed
---
To temper
Oil – 2 tsp
---
Mustard – ¾ tsp
---
Urad dal – 2 tsp
---
Red chilli (dry) – 2 or 3
---
Method
Carefully separate the leaves from stalks. Its always better to leave a tiny bit of stalk in the leaves, but take care no long sticks as well. Wash and drain, keep aside. Heat oil in kadai, temper with the items given under "to temper" table. Add finely chopped onion and fry till transparent.

Add the drained leaves, salt and sugar. Keep stiring to mix the salt for a minute, it will leave water, which helps in cooking the greens. Cook in low flame for 5 minutes. The volume will reduce as it is cooking.

You can cook covered, but my grandma says do not cook any green covered with lid, it should be cooked open. I dont know the reason, but believe there is some good reason for it. So as it cooks, the water that oozed out from the greens will evaporate apparently help the greens get cooked. Once done, cook in high flame to evaporate excess water. Add grated coconut at last and give a fry for a minute.
Notes
You can skip onion and add finely chopped garlic.
We usually do not add curry leaves in greens stir fry or any dish with greens.
Adding sugar helps retaining the green colour.
If too much of stalks left in the green, its not good for your tummy.
The poriyal by itself has a very very mild bitterness sometimes, depending upon the variety.
You can serve this as accompaniment for rice, sambar or any kuzhambu. You can mix it with steamed rice and ghee and have it as such too.