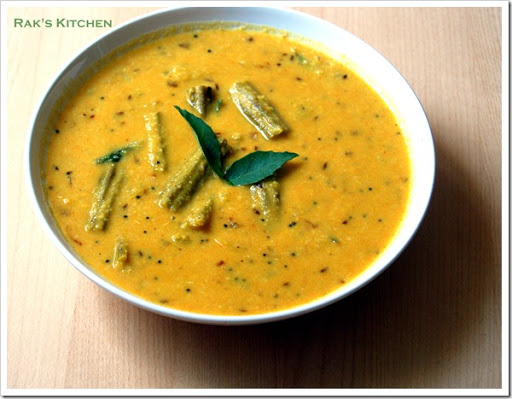 Murungakkai poricha kuzhambu recipe – a mild recipe but flavorful kuzhambu, includes vazhakkai poriyal recipe too! We make
poricha
(
poritha
to be more precise in Tamil
) kuzhambu
with different veggies and in two varieties,one is with coconut in it and the other without coconut and called "
Raathiri poricha kuzhambu" ( Rathiri
means "Night time").
I love the one made with brinjal,my favorite veggie and also this with drumstick,equally,because,this has a nice flavor! I just love it 😍. My mom makes this often,but i rarely make coz I rarely buy drumstick! These drumsticks I have used is from India,when my BIL came here last week ,my FIL bought and passed it through him. When he was here I dint cook coz he does not like…
Murunkakkai poricha kuzhambu recipe
Recipe Cuisine:
Indian
|
Recipe Category:
Lunch
Prep Time
:
5 mins
|
Cook time: 20 mins
|
Serves
:
3
Ingredients
Drumstick – 2
---
Moong dal/ paasi paruppu – ¼ cup
---
Sambar powder – 1 tsp
---
Turmeric powder – ¼ tsp
---
Tomato – 1,chopped
---
Asafetida powder – 2-3 pinches
---
Salt – As needed
---
To grind
Coconut,grated – ½ cup
---
Rice flour – ¼ tsp
---
To temper
Mustard – ¾ tsp
---
Urad dal/ulutham paruppu – 1 tsp
---
Cumin seeds – 1 tsp
---
Curry leaves – 1 sprig
---
Chopped Shallots – 1 tbsp
---
Asafetida – 3 pinches
---
Oil – 2 tsp
---
Method:
Cut drumstick into long pieces that you have desired.
Boil moong dal with tomato,turmeric,sambhar powder and after its half done add drumstick and salt.(If you are comfortable in pressure cooking,just add everything in a pressure cooker with just enough water and give 2 whistles,but I always mess up,either the moong will be uncooked or the drumstick will get broken,so I always be safe

Grind coconut and rice flour with little water and add to the cooked drumstick,moong mixture and give a boil.remove from fire.

Season with the items under "To temper" table and brown the onions nicely and mix well and serve with rice!
A SIMPLE PLANTAIN/VAZHAKKAI PORIYAL
This is very very very easy to make recipe,yet the flavor is really great! Can be made in a jiffy!

Ingredients:
Vazhakkai/plantain – 2 nos.
---
Sambar powder
– 1 ½ tsp
---
Turmeric – ¼ tsp
---
salt – As needed
---
Coconut gratings – 4-5 tblsp
---
Arisi kazhani/mandi(rice washed water) – 2 cups
---
To Temper
Mustard – ¾ tsp
---
Urad dal – 1 tsp
---
Oil – 1 tsp
---
Curry leaves – A sprig
---
Method
Peel the skin of the plantains and cut them to ur desired,bite size pieces!
Keep them immersed in Arisi mandi,till you cook it.Wash them thoroughly in it to remove the stickiness of the plantain.

Boil it with enough water(just to immerse),sambar powder,turmeric and salt and cook just till done.Takes very less time,don't over cook.

Drain the water and keep aside.

Heat a kadai and temper with the tempering items

followed by the cooked plantains and fry just for a minute to make it dry.

Add the coconut gratings and fry for a minute, ready!!
Both of these can be made easily and it's a very light meal! And so I am sending this to EC of Simple Indian food's event WYF: Light meal.