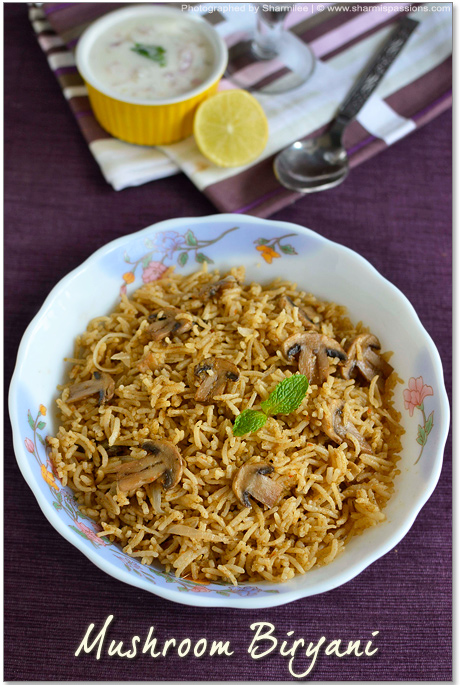 Mushroom biryani recipe !! Yes! You read it right. I never thought I would post mushroom recipes in my space ever. Because it took so much time for me to make up my mind to buy and try cooking that. Then few tried it flopped very much. Poor people who tasted my preparations. I don't even know how to handle this veggie. Since my family also hate mushrooms, I can never try it out that often. So one day suddenly I asked Sharmi to do a guest post for Raks kitchen and she said OK the very next second I asked. Again suddenly it struck in my mind to ask a mushroom recipe to her, so that I can have at least one recipe here with mushrooms.
I suggested her to make mushroom biryani and she said deal for it. Actually I asked her to do this later when ever she is free, relaxed and not to take it as a burden. But she made the post ready and sent me by mail within 2 weeks! I was so thrilled to see the beautiful pictures she showed and secretly admired her enthusiasm, as always. Thank you for the post Sharmi.
Yes, I always wonder and appreciate her spirit towards blogging at Sharmis Passions, me being in contrast to her. Even after 5 years of blogging, I always make my post ready only the before day or same day when I am going to post it in blog. In fact, I have to admit that she have changed my attitude towards blogging, Mostly I get interest just by seeing her interest and dedication. Also she has helped me a lot in improving my photography, sometimes in codes, in presentation of my posts. Not only in blogging, more than that, she is one of those friends to whom I share everything comfortably. I can write pages, but here is her post!
I am really very happy to write a guest post for one of the inspiring bloggers Raji of Raks Kitchen. She is one of the strong supporters for my space, a dear friend who gives me feedback every now and then, puts even the criticisms in the best possible way that makes me do even better. She is my all time inspiration in cooking!!
When she asked me to do a guest post with a mushroom recipe, I was surprised at the same time very happy so readily accepted it. I left the dish choice to her but should admit I was keeping my fingers crossed that any recipe other than dosa should be her choice and do you know why?! yes I struggle to click pictures of dosa and the feeling totally puts me down. I took a deep breath only after she asked for biryani 🙂
I made few adjustments to the veg biryani I make and came up with this recipe….should say it turned out great and had a thumps up from hubby. If anyone says I cook the perfect grains separated rice I owe all the appreciations to Raji as she gave me the exact measurements since then I am following it to the dot and it comes out perfect every time. Now lets get on to the mushroom biryani recipe…
Ingredients
Mushroom Biriyani Recipe
To grind to a paste:
Coriander leaves – 4 tbsp
Mint leaves – 3 tbsp
Green Chillies – 1
Fennel seeds – ½ tsp
To temper:
Cloves -2
Cardamom -1
Cinnamon – ¼ inch piece
Bayleaf -1
Method
1.Grind the ingredients under 'to grind' with little water to a fine paste. Set aside.Soak basmati rice for atleast 15mins , set aside. Heat oil+ghee in a pressure cooker and add the items under 'to temper' then add ginger garlic paste and saute for a minute.


2.Then add onion and saute till its golden brown. Then add tomato puree saute till raw smell leaves, then add coriander mint paste and saute till raw smell leaves.


3.Then add red chilli powder, garam masala powder, required salt and saute till the masalas is well blended. Then add mushroom and saute for 2mins until water leaves and it starts softening. Then add curd.


4.Once the masala is nicely blended with the mushrooms , add basmati rice – give a quick stir.


5.Then add required water and pressure cook for 3 whistles(After the first whistle lower the flame). Once pressure releases, fluff the rice with a fork carefully without breaking the rice.


Serve hot with onion raita – the best combination.
My Notes
If you like the lemon flavour, squeeze lemon juice once the biryani is done.
You can also use ½ cup of coconut milk which gives a nice flavour but adjust water level accordingly .
I usually use 1:1and ½ cups of water ratio so have given the measures accordingly. But you can use the measurement according to the variety of basmati rice. I use India Gate Basmati rice.
Enjoy it hot with onion raita.