Best Indian lunch recipes in a special menu to cook for occasions or your guests with dessert to finish off.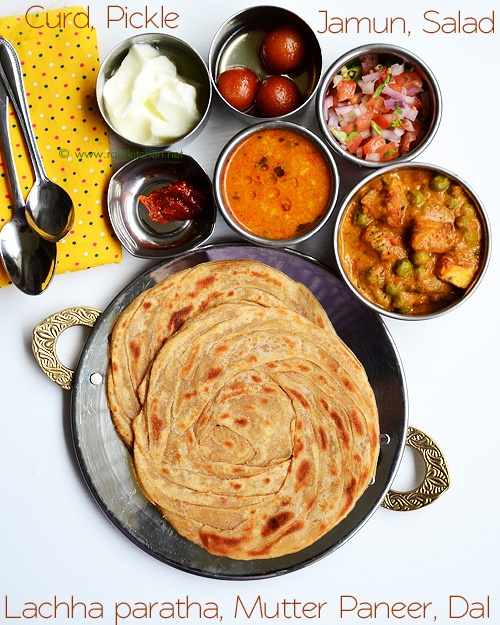 For this lunch menu series, these days I don't plan ahead, just decide, cook and post the very same day.
Today when I was going through my recipe index and the lunch menus, I thought I should post something that I haven't covered yet.
The first thing I could recognize is lachha paratha and mutter paneer. So I knew I am going to make this.
My kid, though he likes North Indian lunch, he also needs  steamed basmati rice and dal to finish his meals.
Though I have not kept rice in this picture, I kept basmati rice for him. That's it, my lunch menu is planned.
I had Jamun made with ready made mix that my MIL gave it to me to make it for her boys.
She wanted to make it when we went to Chennai few month back, but she had no time.
So she gave it to me and asked me to make after coming here. 2 days back I made it for them.
I added this to my menu to make it more tempting to you. So here's how I cooked this week's lunch with Lachha paratha, mutter paneer, dal fry, jamun, curd, pickle.
Instructions
Recipe Cuisine:Indian | Recipe Category: Lunch
Prep Time: 30 mins | Cook time: 45 mins | Serves: 3
Pressure cook dal for dal fry. Prepare dough for lachha paratha.
Do the cutting, slicing works. Slice 2 onion and chop 2+1 tomato for mutter paneer and dal. Keep all the other ingredients ready – green chilli, ginger, coriander leaves, masala powders, kasuri methi, ghee, lemon, peas, paneer etc. Reserve some onion, tomato, green chilli and coriander leaves for salad.
Shallow fry paneer after thawing it. Keep it immersed in hot water until use. Microwave cook frozen peas.
Prepare dal fry first once dal is done. Do mutter paneer next. Mix onion tomato salad with lemon.
Lastly make lachha parathas when you are ready for lunch.
Serve with curd, pickle, Jamun for dessert.
Check out the links for the recipes :
Check out my other paratha recipes, paneer recipes and this instant mango pickle that can go well with this.