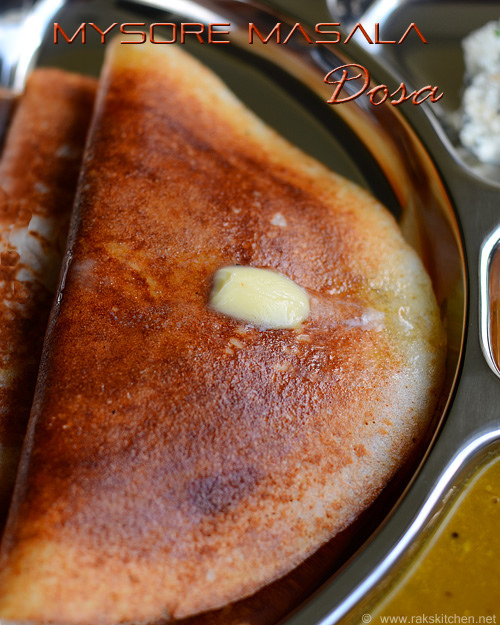 Mysore masala dosai is one of the things in my to try in restaurants list that I have planned in my trip to India this holidays. I have tasted only once I think that too I could not find any difference about the regular masala dosa and that one they served. But being a food blogger and a foodie, I have heard mysore masala dosa is different form the regular
masala dosa
, right from the dosa to the things that go inside the dosa. Last year I saw a youtube video which shows a roadside hotel, a man making dozens of these dosas at a time. With ease, with loads of butter and we forget about everything and instantly drool if we see that video. I saw him putting a red chutney over the dosa, with generous butter topping and masalas stuffed and served. The dosa is evenly browned and crisp, dense, thick than we do at homes.
And I get few requests once in a while to post dosa batter recipe and this mysore masala dosa recipe too, especially the red chutney which makes the spicy difference in this dosa. I referred
this blog
for red chutney and tried, though I changed the ratios as the first time I tired it, i got too thick
chutney
. As I told in the dosa post, this is the main post I wanted to post, before which I posted the dosa batter recipe separately as it would help many to grind it easily in mixie.
Mysore masala dosa recipe
Recipe Cuisine:
Indian
|
Recipe Category:
Breakfast
Prep Time
:
3 hr soaking time + 12 hr fermentation
|
Cook time: 25 mins
|
Serves
:
4
For spicy red chutney to spread over the dosa
Ingredients
Channa dal – 3 tblsp
---
Dry Red chilli (long variety) – 7
---
Garlic – 5 flakes
---
Shallots/ small onion – 2
---
Salt – As needed
---
For the potato masala
Potatoes – 3, big sized
---
Onion – 1
---
Carrot, finely chopped (optional) – 2 tbslp
---
Green chilli – 2
---
Finely chopped ginger – 1 tblsp
---
Turmeric powder – ⅛ tsp
---
Salt – as per your taste
---
To temper
Oil – 1 tblsp
---
Mustard – ¾ tsp
---
urad dal – 1 tsp
---
Channa dal – 2 tsp
---
Curry leaves – 1 sprig
---
Method
Wash and cut each potato into 4 and pressure cook with ½ cup water for 3 whistles. Peel off the skin and mash it well. Heat a pan with oil and temper with the items given under 'to temper' table in order. Let the cashews turn golden.

Add chopped ginger, green chilli, onion, carrot and fry well for a minute. Add ¼ cup water and turmeric.

Add the mashed potatoes and mix well. Fry for 2-3 minutes, add oil if needed more.

Roast channa dal and red chillies in medium flame with few drops of oil. Add shallots, garlic along with and fry for few minutes. Cool down and transfer to the mixer.

Grind it to a thick, yet spreadable chutney, with a little water. Heat dosa pan, spread the dosa batter evenly over the hot tawa, once the dosa is half cooked, add a tblsp of this chutney.

Spread it using the back of a spoon around the dosa. Add butter if you want and spread it evenly too as it melts and you can add oil alternatively.

Add 4 tblsp of the prepared aloo masala and its your option either to spread it slightly and fold the dosa or keep the masala and roll the dosa. No need to flip the dosa.
Notes
Make sure to grind the chutney spicy to make the dosa perfectly spicy. Otherwise it will be like the regular masala dosa.
Adding butter sure enhances the taste and browning, but make sure you restrict yourself with only one or two.
I made with more channa dal first time and found it less spicy and too thick, so I have adjusted the ingredients accordingly in my recipe. So you may get more deep red coloured chutney when you try.
Serve with sambar and coconut chutney the evergreen combination, if you want, with a dollop of butter.