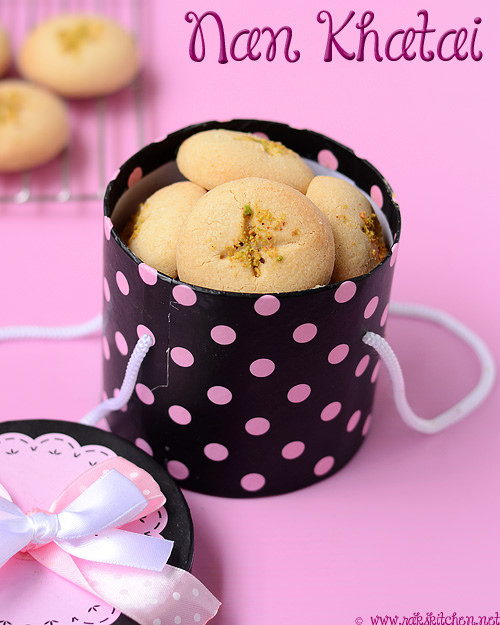 Nankhatai recipe is one among the several to try baking list for long time. I had no idea about the recipe, so was waiting for a good recipe. And my friend Sangeeta came like an angel 😇 at time for this Diwali 2014, with this recipe which was from her mamis. When she made it and came out good, immediately she sent pictures in whatsapp along with the recipe. I was so happy and the very next day I baked these beauties. Yes, beauties!!😊 She told, most people make it with maida and besan but this one is with ¾th wheat flour/ atta and maida. This will be really a perfect snack for you kid's snack box, its healthier than the store bought cookies and handmade with lots of love😍. And for this festival season, this is perfect for gifting, just bake it in batches, pack neatly in cute gift boxes and gift for your near and dears for this Diwali. They will be amazed for sure. So Bake this easy cookies and send me your pictures to my email ID or as message in Facebook page and I will as usual happily share it in
Facebook page
,
Tried and tasted album
😊.
Nankhatai recipe
Recipe Cuisine:
Indian
|
Recipe Category:
Sweets
Prep Time
:
20 mins
|
Cook time: 15 mins
|
Makes
:
15
Ingredients
Wheat flour/ Atta – ¾ cup
---
Maida/ All purpose flour – ¼ cup
---
Sugar – ½ cup
---
Ghee , melted – ½ cup (may not need all)
---
Elachi/ Cardamom – 1
---
Baking powder – 1 pinch
---
Pistachios, for decoration – 10
---
Method
In a mixer, place sugar along with elachi and powder it. Transfer to a mixing bowl.

In the same mixer, coarsely powder pistachios, keep aside. Preheat the oven at 190 deg C or 375 F.

Add atta, maida to the powdered sugar along with baking powder. Mix well.

Add ghee little by little rubbing as you add. You may not need all, may be 1 tblsp you can reserve. You should add ghee to form a dough. No water.

In a baking tray, line with cookie sheet or grease with ghee, dust with a teaspoon of flour. Make equal sized balls (15) out of the dough. Flatten slightly, not too much.
Cut with a knife to make a criss-cross pattern in the top middle of the cookie. Add a pinch of powdered pistachios over each cut.

Bake it for 12 to 15 minutes at 190 deg. C/ 375 F. The cookie should not change in colour to dark brown. When it just starts golden in colour in the sides, that is enough. Cool in wire rack before storing in an airtight container.
Notes
Add ghee gradually, do not end up in adding more than needed. The dough should hold its shape, if not, ghee is more.
The ghee amount may vary depending on the flour, so handle accordingly.
I felt if the cookies are made smaller, it looked more cute than this. So make it smaller if you wish.
This cookie will be sweet, if you want, reduce 1 or 2 tblsp of sugar.
I made in two batches, second batch gets baked quickly. So always keep an eye after 10 mins of baking.
Aren't they perfect for gifting your friends and relatives this Diwali 2014? Easy for you to bake too!