Narthangai
rasam
is a quick one you can prepare if you have narthangai – bitter orange – citron with you and want to use it up quickly. Last month my sis in law here in SG passed me few narthangai. I desperately wanted to make narthangai pachadi. It has been a long time since I made narthangai pachadi, so wanted to. But it started ripening already. So thought of making narthangai rice for me. Then thought what else can be made with narthangai so that I can blog it too. So tried this narthangai rasam from
this blog
.
Made slight variations to suit my taste bud. Very flavourful of course, quick and easy to make, appetising rasam.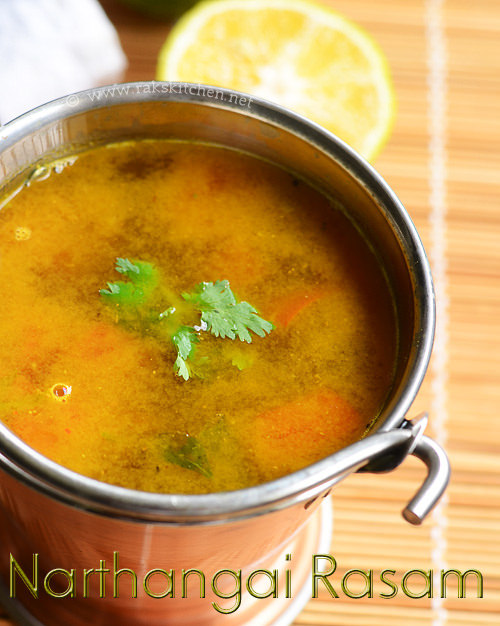 Narthangai rasam recipe
Recipe Cuisine:
Indian
|
Recipe Category:
Lunch
Prep Time
:
10 mins
|
Cook time: 15 mins
|
Serves
:
3
Ingredients
Narthangai – 1 big
---
Tomato – 1
---
Green chilli – 1
---
Turmeric – 1/4 tsp
---
Jaggery – 1 pinch
---
Salt – As needed
---
Coriander leaves – 1 tbsp, chopped
---
To grind
Pepper – 1 & 1/2 tsp
---
Cumin seeds – 1 tsp
---
Red chilli – 1
---
To temper
Oil – 2 tsp
---
Mustard – 3/4 tsp
---
Asafoetida – 1 generous pinch
---
Curry leaves – 1 sprig
---
Method
Chop tomato roughly. Cut narthangai into two. Slit the green chilli. Squeeze the narthangai gently and collect the juice through a strainer.

In a mixer, powder pepper, cumin seeds, red chilli coarsely.

Mash the tomato with your hands as much as you can in water. Boil this water with green chilli turmeric, jaggery and salt. Boil for 2-3 minutes.

In a kadai, temper with mustard, asafoetida and curry leaves. Lower the flame and add the powdered pepper jeera and red chilli mixture and give it a quick fry. Add it to the rasam and boil it for 2 minutes and switch off the stove.

Garnish with coriander leaves. Add the squeezed juice and mix well.

>
Notes
If the narthangai is ripen, it has less sourness. So use unripe narthangai.
You can use lemon in place of narthangai and make it as lemon rasam.
You can mix both narathangai and lemon juice and make this rasam as well.
Don't squeeze hard, be gentle otherwise you will have the rasam taste more bitter.
Give standing time before serving.
Hot rice and narthangai rasam with some vegetable side dish makes a hearty meal!