Navaratri sundal recipes for 9 days and more option to decide form the collection of many. All links in one place for easy access.
Jump to:
My first Golu
My last year's(2011) Golu. First two steps with the dolls and 3rd step is only for Aj, only his toys 🙂
I know many of you wondering what I am doing this year, I am yet to set up my kolu, this year.
Last three days alone, as we have planned for a holiday trip to Vietnam as Aj's exams are over and he has got a term break.
Will be back from vacation and after setting my kolu, I will share the pictures as well as a sundal recipe with you all!
Also check out my other collections in my website.
The poorna kumbam with coconut and maavilai is considered a 'must' in the kolu...
🧾 List of sundal recipes
Now these are some ideas for Navaratri special that you can offer to God as well as serve as prasadam for visitors. Just don't forget to soak the legumes whenever needed.
Because some needs 12 hours soaking time for easy cooking, depending on the sundal you choose for the next day. You can check this no onion no garlic recipe collections too. Happy Navaratri !
Here's the color, prasadam ideas for 9 days of navaratri: (Source)
Day
Goddess
Flower
Fruit
Color
Neivedhyam
Day 1
Maheswari
Jasmine, Vilvam
Banana
Red
Ven pongal, Karamani sundal
Day 2
Kowmari
Thulasi, mullai, sevvarali
Banana
Blue
Kondakadalai sundal, Puliyodarai
Day 3
Vaaraahi
Hibiscus, Sambangi
Jackfruit
Yellow
Pattani sundal,
Kadamba sadam,
Day 4
Mahalakshmi
Jadhimalli
Guava
Green
Green gram sundal, sakkarai pongal
Day 5
Vaishnavi
shenbaga poo, Parijadham, mullai
Pomegranate
Grey
Kadamba sundal, thayir sadam
Day 6
Indrani
Kungumapoo
Orange, banana
Orange
Peanut sundal, lemon rice
Day 7
Saraswathi
Thazhampoo, thumbai
Dates
White
Urad dal ladoo, Coconut rice
Day 8
Narasimhi
Marudhani poo, Sambangi
Grapes
Pink
Chana dal sundal, Appam
Day 9
Chamundeswari
Marikozhundhu, Lotus
Naval pazham
Red, sky blue
Ven pongal, moong dal sundal
Chana sundal prepared with kabuli chana or white chana is a healthy dish as well as prepared during Ganesh chaturthi festival.
20
mins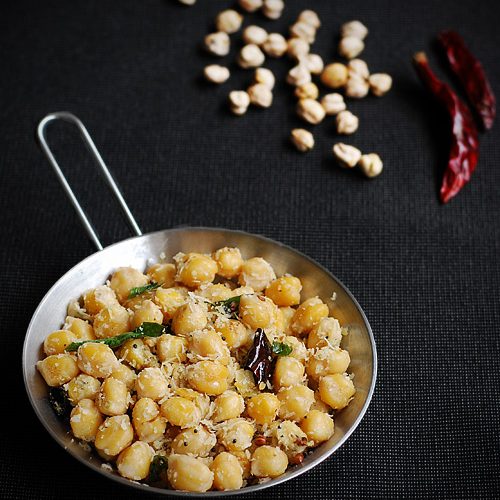 Kondakadalai sundal with special masala powder to make it double flavorful. This can be also prepared without sundal podi.
20
mins
Mochai sundal recipe with coriander and lemon added for extra zing. Mochai is by itself very flavourful, with coriander added to it, it turns out really delicious and flavourful.
20
mins
Black bean sundal, a quick sundal that needs just 30 mins soaking time minimum. Stepwise pictures post.
25
mins
Recipe card
Sundal recipe | Navaratri sunda recipes for 9 days
Sundal recipe list with respective links all in one place for you to choose for this Navaratri festival season. From simple dal sundals to the one with podi.
Cup measurements
Instructions
Sundals like pasi paruppu, chana dal, green moong needs less time to soak. No need for overnight soaking for such sundal, so note down the soaking time individually.
Notes
Please check individual links for respective recipes