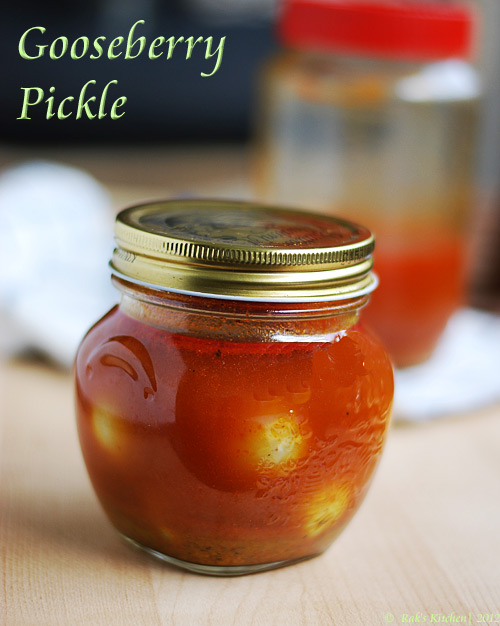 Neer Nellikkai recipe- I have been bit lazy that its more than a week,since I posted a recipe here😷. I took pictures when I made this pickle in between the week, but waited for the pickle to get a good look😞.I love this neer nellikai very much,this is so easy to make,that's why this is the only pickle i make of my own at home…😉. Very very flavorful one,am sure you all going to love it! This tastes best with curd rice,we can eat the nellikkai as such too,just give a wash in tap water and toss in to your mouth.
I always been excited from my childhood,that after eating Indian gooseberry,if we drink water,the water tastes way too sweet!!! Till now for that sake I never forget to drink water to enjoy that sweet taste😀.
No need to say how healthy this nellikkai is,so don't hesitate to pick up from the store when you come across some fresh Indian gooseberry. I took a pack of 12 or some 15 from Mustafa when I went for monthly purchase,this gooseberries were lying for a week in my fridge,then when a moment came that after this,the goose berries will not be good anymore,I made this pickle..
I love to mix this water,in which we pickle the gooseberries,than the berries😉.My mom-in-law makes thogaiyal too,with fresh gooseberries,which I should try in future and post here too.
With very few ingredients and simple method,you can enjoy this flavorful pickle.
Neer nellikai recipe
Recipe Cuisine:
Indian
|
Recipe Category:
Pickle
Prep Time
:
5 mins and 10 days soaking time
|
Cook time: 5 mins
|
Serves
:
3 cups
Ingredients
Fresh big variety gooseberries – 15
---
Asafetida & turmeric – 1/8 tsp each
---
Water – 3 cups
---
Salt – as needed
---
To grind to coarse powder
Long variety red chilies – 12
---
Roasted fenugreek seeds – 1 tsp
---
To temper
Mustard – 1 tsp
---
Asafoetida – 1/8 tsp
---
Sesame oil – 1 tsp
---
Method
Fry the gooseberry in kadai with few drops of oil for 2 minutes in medium flame. This step is to make the soaking part faster,you can skip too!
Transfer the gooseberries to the container in which you are going to keep the pickle and add enough water.
Grind the chilies and roasted fenugreek seeds to coarse powder.
Mix in the powder,turmeric,salt,asafetida powder to the gooseberry in water .
Temper the items given in the "to Temper" table and Mix well.
Keep closed for 2-3 days to ensure even mingling of the spices.

After two days,the water will become so flavorful with all those spices mixed well (if you taste immediately after mixing,it will be bitter,don't worry will be good after 2 days)and also will have the flavor of gooseberry!! Enjoy with a creamy curd rice!!
So What are you waiting for to try this simplest pickle recipe ever? Try it out, its Damn healthy!
This pickle stays good for at least 15 days without refrigeration. Just have to handle it clean and stir everyday. Keep in airtight container. Dont keep in plastic. Use clean ladle. Can keep in refrigerator for a month!