Nei appam is a karthigai deepam special recipe made with rice as main ingredient. Ghee is used in this nei appam preparation as the name indicates.
This is the first time I am trying the Nei appam / Neyyappam. Mom always used to make
appam with wheat flour
and banana. Its a deep fried one. Or we make
sweet paniyaram
. This recipe for nei appam sounded interesting with only rice,jaggery and coconut. Thought this would be helpful for many of you as Karthigai deepam is nearing! I have beautiful memories about karthigai deepam. It is the most beautiful festivals according to me those days. Two eyes wont be enough to see all the lamps lit all over. Mom had a few collections of lamps with her. Few pithalai vilakku of different shapes, few special lamps made out of '
maa-kall'
and a lot other clay lamps. Every year, she buys few new lamps to add in the collections and its a must for her. My MIL also have similar collections and she lights tea light candles too to decorate.I have only some with me now and I too use tea light candles to fill the spots.
Me and my bro always save few crackers ,flower pots and sparkles that dad buys for Diwali and light it on the day of karthigai deepam. So we will be excited. One of my aunt told and teached about a rare and unique karthigai fire works especially done for this festival. Its made with the dried palm flowers. Its a bit dangerous but my bro once bravely did that. Not to forget the
pori urundai
made. I used to ignore it those days, but craving for those now 🙂 Now to the recipe, I got an idea about the recipe from
Shanthi's Thaligai
. But adapted the recipe to suit my taste. Let's learn how to prepare nei appam, below are the step by step pictures and instructions.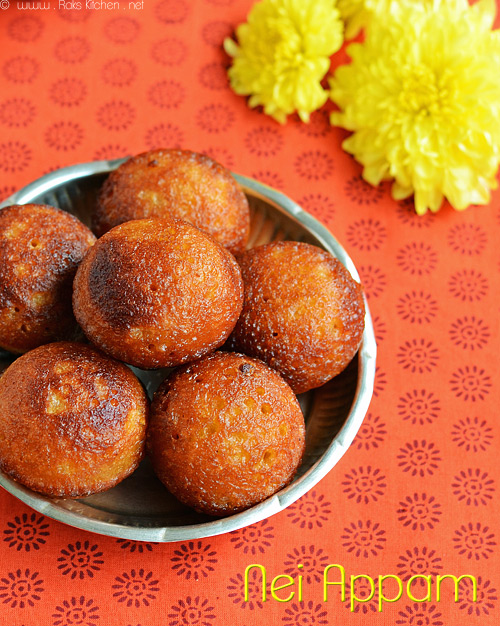 Nei appam recipe
Recipe Cuisine:
Indian
|
Recipe Category:
Sweet/ Snack
Prep Time
:
3 Hours soak time
|
Cook time: 10 mins
|
Makes
:
15
Ingredients
Raw rice – 1 cup
---
Jaggery – 1 cup
---
Coconut grated – 4 tbsp
---
Elachi – 1
---
Cooking soda – 3 pinches
---
Salt – 1/8 tsp
---
Ghee – As needed
---
How to make nei appam method
First soak rice for 3 hours. Grind it with less water to a thick paste.

Melt the jaggery with very little water and strain to remove any impurities. Add it to the ground rice batter and mix well. Keep aside.

At the time of preparing, add salt, powdered elachi, cooking soda, coconut and mix well. Heat a paniyaram pan and add 1 tsp of ghee to each partition and pour the mixed batter to fill each one.

Cook covered for 1 – 2 minutes in low flame. Turn with the paniyaram skewer or a spoon and add more ghee if dry.

Cook for another minute or two in medium flame until golden brown and inside of the paniyaram gets cooked. Collect the paniyarams in the serving bowl.
Tips
I leave the sides of the mixer which has rava like batter stuck to it without wiping. I like the texture it gives to the paniyaram. Though we grind the batter smooth the rava like rice add a nice texture to the paniyarams.
If you add more water while making jaggery syrup, then the batter may get watery, so be careful while melting the jaggery. In emergencies if your batter gets too watery, then add wheat flour to balance it.
You can also add the jaggery as such to the batter without melting, but make sure it has no impurities.
If you don't have paniyaram pan, heat about one or two inch of oil/ ghee in a kadai and use one laddle to spoon the batter. You can make only one at a time.
Grated coconut also is an important ingredient to get a soft paniyaram.You can grind along the rice too.
You can add a mashed banana in this to get pillow soft paniyarams.
Cooking soda helps in cooking the inside of the paniyarams and also helps in softness.
Be generous in adding ghee otherwise it may not get even browned. If you are guilty in adding a lot of ghee, then you can mix sesame oil and use generously.
Stays as such even after cooled down.
Use indolium or iron paniyaram pans for even and perfect browning.
This needs no fermentation, still making the batter an hour or more prior is better.
Crispy outside and soft inside paniyarams! Enjoy!