North Indian lunch menu with dhokla, salad, aloo kulcha, shahi paneer, rice, dal fry, pakodi kadhi, bhendi subji, pickle, dahi and gulab jamun.
Check the individual links for recipe. This post is just idea on how to prepare the menu as a part of my lunch menu series.
For recipe and method, check the respective links given.
Jump to:
Whenever I see any north Indian thali in Instagram or facebook, I will start drooling.
And if the menu is impressive I will save the picture for my lunch menu idea 😉.
I have few pictures but weekends just fly away with regular south Indian cooking that is favorable for both dad and son.
After so many months, I am here with this lunch menu. When Vj went to Pune for his official trip, he sent me the lunch menu he had.
It was named as "Ghar ka khana" by Pune Marriot. It had  paneer side dish, vegetable side dish, dal, roti, pickle, papad, dahi and a bowl full of gulab jamun.
The bowl full of gulab jamun was too much tempting me along with that lovely spread.
So I decided to try similar menu once. But before that, I had another picture of north Indian thali, in which I saw khandvi and similar menu as above.
I wanted to add on khandvi or dhokla to my menu. Since the menu was elaborate, I thought I will make dhokla, as khandvi could take more time (for me).
So this weekend I decided to give a break to my regular south Indian lunch menu and make all these yummy dishes.
Instructions 
Recipe Cuisine:Indian   |  Recipe Category: Lunch
Prep Time: 45 mins + 1 hr dough resting time | Cook time: 1 hr 30 mins |  Serves: 4
First prepare the dough for kulcha and keep aside. Soak rice for steamed rice.
Pressure cook potato and dal for kulch and dal fry respectively. I used my two containers in pressure cooker to cook together.
While it is getting cooked, you can do the chopping work. Chop onion for bhindi subji, pakodi and for shahi paneer. Tomato for dal and shahi paneer. Cucumber, onion and tomato - slice it for salad and keep it cling wrapped in fridge.
Other ingredients like green chillies for shahi paneer, dal, dhokla, ginger for dal, kadhi, shahi paneer and dhokla, coriander leaves can be kept ready.
Cut bhedi lastly as it will make knife and cutting board slimy.
Pressure cook rice when potato and dal are done.
Keep potato mixture ready and rolled for aloo kulcha.
Mix and keep the batter ready for pakoda for kadhi. Also prepare the kadhi mixture.
Keep dhokla ingredients ready in a bowl without adding wet ingredients.
Now start the stove work. First fry the bhindi and keep aside. Then fry for shahi paneer and let it cool down. Soak paneer for shahi paneer.
Finish bhindi subji now. Once done, prepare shahi paneer. Both will take time, so if you want you can do in two different pans side by side if you have burners enough for cooking side by side.
Once both are done, prepare kadhi and pakoda for kadhi side by side. Finish pakodi kadhi.
Finish tempering for kadhi and finish making dal fry.
Mix dhokla batter and steam it. I made with just ½ cup in 3 small ramekins.
Temper it and start making kulcha and serve hot.
I made gulab jamun the before day itself.
This is just an idea, so if you want to change the menu, you can feel free to change the side dish.
Choose paratha over kulcha, it's upto your taste preference and time constrain.
You can skip the dhokla part too. But if you want to make it special, you can recreate the menu.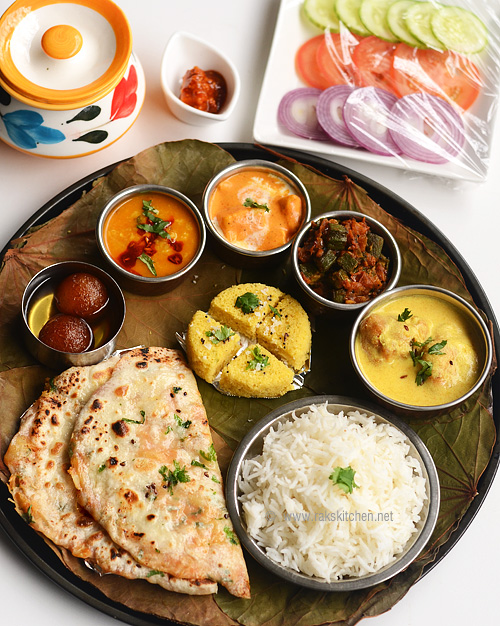 Recipe links
Here are the recipe links :